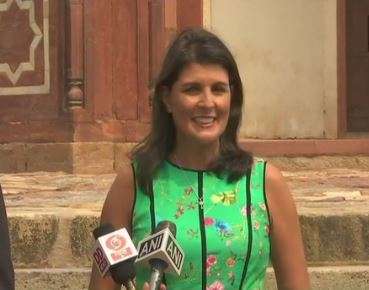 US Ambassador to the United Nations Nikki Haley said on Wednesday that her country wanted to make the relationship with India even stronger and there are many reasons for the same. Haley is on a visit to India from June 26-28.
"I'm here to once again solidify our love for India, our belief in the friendship that India & US have together & our willingness to want to make that relationship even stronger. In this day & time we see more & more reasons to India & US come together," said Haley, reported news agency ANI.
"It makes me happy to be back in India. It's as beautiful as I remember it to be. We started out at Humayun's tomb which is a reminder of how much we value culture & how much India values culture & to see the preservation that has happened here," she added.
"We're two oldest democracies & we see those opportunities between US & India in multiple level of ways whether it's countering terrorism or we want to continue our democratic opportunities or we are going to start to work together more strongly on the military aspect," Nikki Haley said.
During her visit, she is expected to hold talks on a range of topics including developing strategic ties.