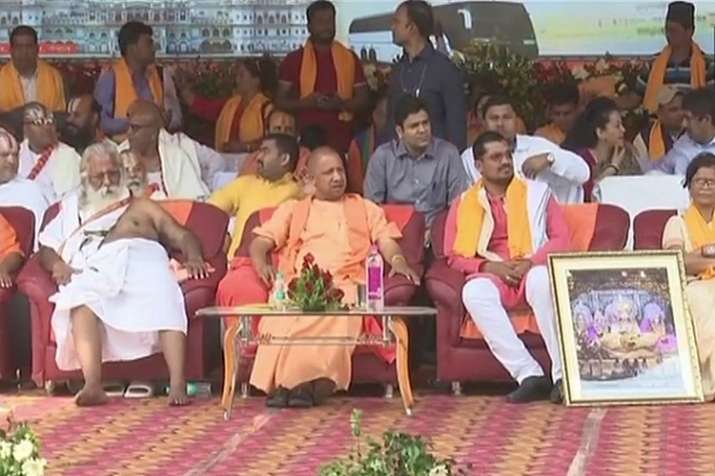 Uttar Pradesh Chief Minister Yogi Adityanath on Saturday received the first batch of pilgrims who arrived in the newly launched bus service between Nepal and India from Janakpur to Ayodhya.
He offered saffron scarves to the male passengers, while the state Tourism Minister Rita Bahuguna Joshi welcomed the women. The passengers were also offered boxes of sweets.
The bus service also known as the Nepal-India Bus Service was launched jointly by Prime Minister Narendra Modi and his Nepali counterpart KP Oli in Janakpur, Nepal as part of the Ramayan Circut Bus Service. The new bus route is aimed at increasing tourism between both the countries.
The bus entered from Gorakhpur and travelled along the Sant Kabeernagar highway after it was received by district and police officials and escorted to Ayodhya.
Residents of Ayodhya were excited about the event and were seen jostling with each other outside the 'Ram Katha' Park to receive and mingle with the guests who arrived. The Nepalese pilgrims who took this bus service from Janakpur, expressed their happiness at taking the first journey to Ayodhya, the land of Lord Ram.
Yogi Adityanath also unveiled a special stamp published by the Indian Postal Department to commemorate the 'Deep Diwali' held by the state BJP government in 2016 on Diwali on the banks of the river Saryu in Ayodhya.
Watch the full video here: