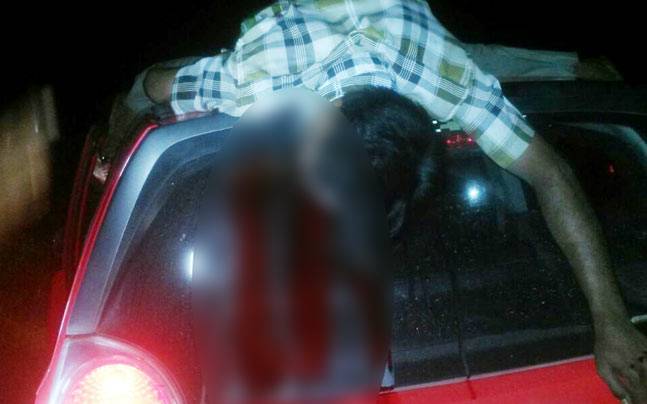 In a gut-wrenching incident, a speeding car on Monday night knocked a man who was crossing the road in Telangana's Mehboobnagar district and travelled for three kilometres with his body on its roof.
The deceased has been identified as Srinivasulu, a 35-year-old labourer, he was crossing the road near a bus depot at Rajnagar around 8.30 pm. He was hit so hard by the Chevrolet car coming from Kurnool that he was flung in the air and thrown onto the roof of the vehicle.
Such was the impact of the collision that the victim, who was crossing the road, died almost immediately.
The callous driver didn't even bother to stop the car and continued driving for three kilometres even though the victim's bleeding body lay on the roof of the car.
When the police and local villagers caught up, the driver jumped out and ran away, abandoning the smashed up and blood-splattered car.
The car reportedly belongs to an industrialist, Rajasekhar, from Hyderabad.
" The Chevrolet car with registration number AP-28CK-8477 coming from Kurnool hit Srinivasulu, reported Hindustan Times quoting Jadcherla sub-inspector of police Madhusudhan Goud.
"We are yet to find out whether the car was being driven by Rajasekhar himself or somebody else," Goud added.