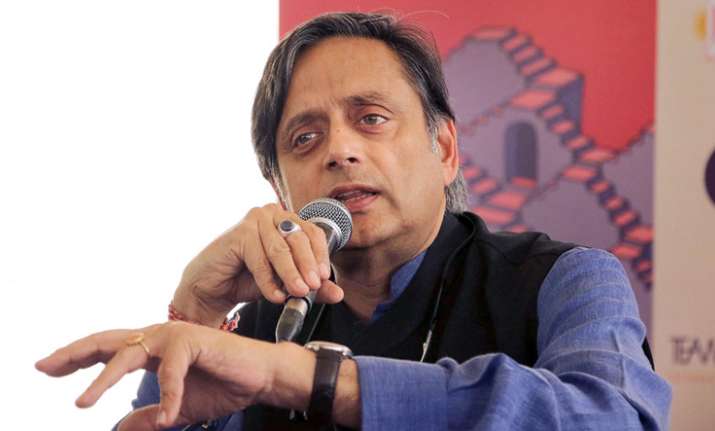 The Congress vs Bharatiya Janata Party (BJP) duel over External Affairs Minister Sushma Swaraj's UN address continued even on Tuesday as Thiruvananthapuram MP Shashi Tharoor described it as more of an election campaign speech. 
Referring to the BJP's criticism of him for questioning Swaraj's UN speech, Tharoor said he felt a "bit rich" to be criticised by the ruling party. The Congress leader claimed that Swaraj had mentioned Prime Minister Narendra Modi 10 times in her speech and spoke about India only five times.
"Bit rich to be criticised by the BJP for describing Sushma Swaraj's speech as a campaign speech. She mentioned Narendra Modi 10 times during her address and spoke about/on behalf of India only five times. If you use the UN as a political platform you can't hide behind the flag," Tharoor said on Twitter.
Most of the first half of the @SushmaSwaraj speech was devoted to plugging @narendramodi's vision for "New India": SwachhBharat, SwasthBharat, SamarthBharat, SurakshitBharat, ShikshitBharat, ViksitBharat, UrjawanBharat, ShaktimanBharat. Was this a @un speech or BJP slogans? https://t.co/eCzQDDP3P9

— Shashi Tharoor (@ShashiTharoor) October 2, 2018
The BJP Monday strongly reacted to Tharoor's reported criticism of Swaraj's UN speech and had said that the opposition party defied a convention of all political parties speaking in the same voice on India's stand abroad.
BJP spokesperson Sudhanshu Trivedi had said the Congress is being increasingly seen to be standing with Pakistan as Tharoor's statement was not an isolated incident and the opposition party often spoke the language of the neighouring country.
He had told a press conference that the Congress should apologise to the country and said its stand on various issues appeared similar to that of Pakistan in "intent, language and style".