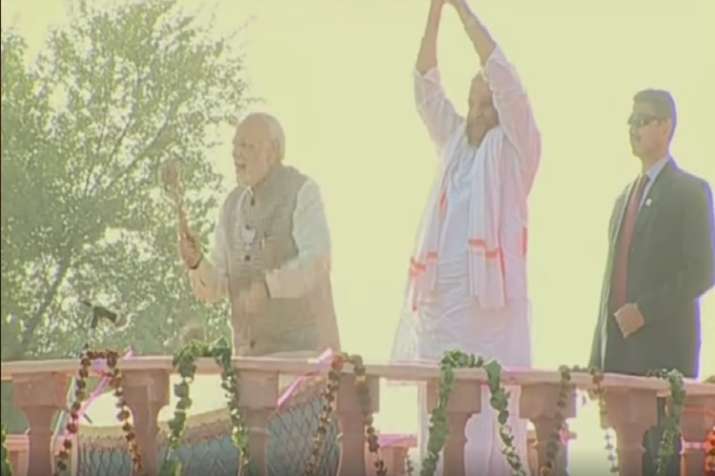 Prime Minister Narendra Modi displayed his drumming skills while wrapping up his election campaign in Dausa, Rajasthan on Wednesday.
PM Modi surprised the audience by playing a jumbo traditional drum. 
The video of the brief drumming session was posted by PM Modi on his Facebook and Instagram pages.
"The sound of victory... of development and people power," he wrote in the Facebook post which received over 32,000 'likes'.
"Tried my hands at the drums in Rajasthan. Have a look," he wrote on Instagram.
Taking a jibe at Congress chief Rahul Gandhi for mispronouncing Kumbharam as Kumbhakaran, PM Modi said Congress is a confused party with confused leadership.
Mocking Congress chief further, he said "They don't know the difference between Kumbharam and Kumbhkaran."
The PM has displayed his penchant for playing different instruments on various occassions.
Last month, PM Modi beat a traditional red dholak before addressing a rally in Chhattisgarh. As he took to the stage, a local leader threw the dholak's strap around his neck and persuaded him to proceed. A smiling PM Modi then briefly played the dholak as people around him clapped above their heads.
PM Modi's skills as a drummer was displayed for the first time four years ago, during his visit to Japan in September 2014 when he joined Japanese percussionists to perform a 'jugalbandi'.
In July 2016, PM Modi enjoyed drumming with Tanzanian president John Pombe Joseph Magufuli during his visit to the country.
Watch: PM Modi playing drum