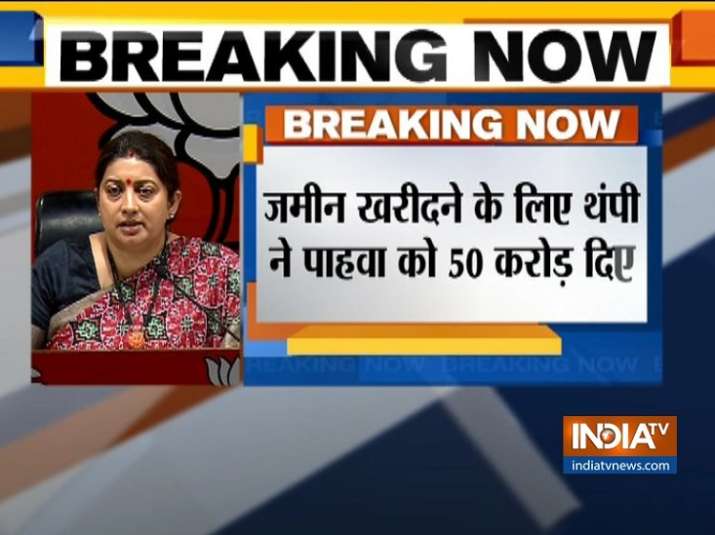 Union Minister Smriti Irani launched a scathing attack on the Congress party in the Bikaner land scam on Wednesday. Addressing a press conference in New Delhi, the Union minister slammed the Gandhis and said, "Corruption is a gift to the country by the Congress." Hitting out at the Rahul Gandhi-led party over dynasty politics, Irani said, "In the past 24 hours, the facts that have come out in news, indicates how Gandhi-Vadra family has described "parivarik brashtachar".
"Reports have suggested that HL Pahwa was suitably financed and supported by CC Tahmpi," the Union minister said, adding, "Investigations have found money trail between CC Thampi and HL Pawa amounting to Rs 54 cr."
"The new facts which have come to the fore clearly establish a relationship between Rahul Gandhi and arms dealer Sanjay Bhandari," she said. 
Further hittiing out at the Congress, the Union minister said, "Sanjay Bhandari, an arms dealer with close links to Robert Vadra is also under investigation for defence deals and his desperate desire to be a party to the ill-gotten fruits of corruption during UPA regime."
Accusing the Gandhis of working in the interest of their own family, the Union minister said, "The nation has come to a conclusion, that Rahul Gandhi's intervention in the defence preparedness of our country stems from his pursuit not only of individual politics but his personal commercial interests, his personal family interests."
Irani alleged the name of Priyanka Gandhi Vadra was also involved in the land scam documents. 
"Bikaner land scam a family package," she said. 
Talking about the Rafale deal, Smriti Irani said, "In connection with Rafale files, involvement of Sanjay Bhandari has been found, in how documents are stolen from Defence Department and information was provided to the defence contractors."
"Relation between Sanjay Bhandari and Robert Vadra was established in relation to benami properties in London," she said.
Watch Smriti Irani's Full Press Briefing Here:
In September 2015, the ED registered a criminal case under the Prevention of Money Laundering Act (PMLA), alleging that Vadra-owned Sky Light Hospitality had bought a piece of land in Kolayat, Bikaner, at a very low price and sold it at an extremely high premium through illegal transactions.