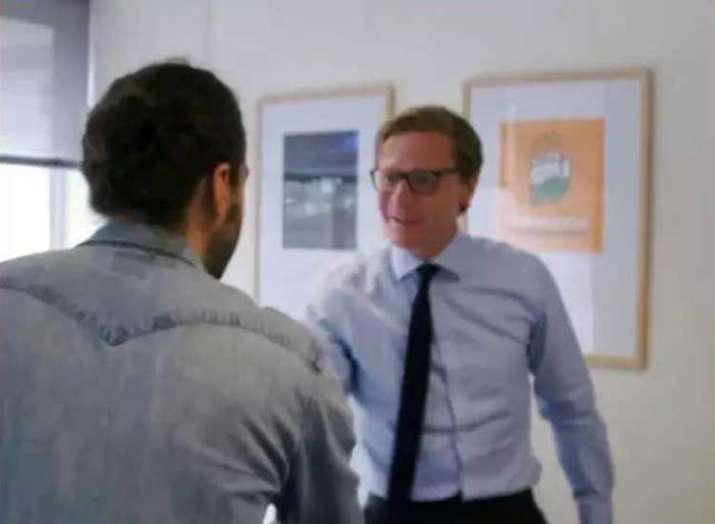 Questioning Congress party's claims of having never done any business with Cambridge Analytica, Union Information and Broadcasting Minister Smriti Irani today tweeted a photograph, originally published  by The Economic Times, in which a poster of  Rahul Gandhi-led party's election  symbol (hand)  is seen hanging purportedly on the wall of Cambridge Analytica CEO Alexandar Nix's London office. 
"Kya Baat hai @RahulGandhi Ji.. Congress ka Haath, Cambridge Analytica ke Saath!" Smriti Irani tweeted.
The Economic Times report refers to a documentary released last year by journalist and tech blogger Jamie Bartlett which shows the scribe meeting Cambridge Analytica's now-suspended CEO Alexander Nix in his London office. 
" As Bartlett enters Nix's room, he stands up and greets him. Right behind Nix, on the wall, is a poster showing the 'hand' symbol of the Congress party. Below the hand is written "Congress" in bold letters. The poster carries the slogan 'Development for all'," the ET report said.
Cambridge Analytica has been accused of stealing Facebook data to influence elections in different parts of the world including the 2016 US presidential polls.
Kya Baat hai @RahulGandhi Ji.. Congress ka Haath, Cambridge Analytica ke Saath!https://t.co/fUaPlMekMB pic.twitter.com/JieXqUgp3K

— Smriti Z Irani (@smritiirani) March 28, 2018
On Monday,  Cambridge Analytica whistleblower Christopher Wylie claimed that the controversial data analytics firm "worked extensively" in India, and named Congress as its client while testifying before the UK Parliament.
On Wednesday, Wylie tweeted details that claim to expose the British consultancy's work in India dating back to 2003.
Wylie claimed that SCL India (formerly Strategic Communication Laboratories, the parent company of Cambridge Analytica) was asked to provide electoral research and strategy for the 2010 Bihar elections for the JD (U). 
However, the claim was denied by the JD(U) with the party insisting that it does not believe in using data for electoral politics. 
"I have said this in the past. I repeat again that the JD (U) does not believe in such means. We fight elections the way it should be contested,"  JD (U) leader K C Tyagi said.
Watch video: