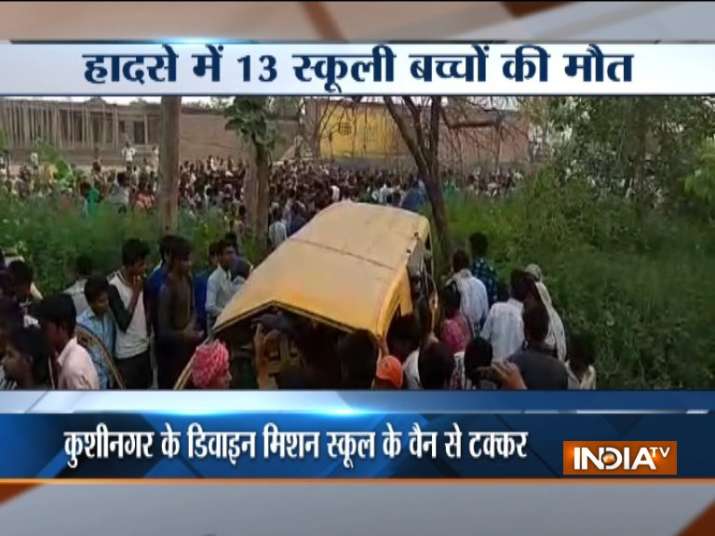 At least 13 schoolchildren were killed and several others injured after the vehicle they were travelling in collided with a train at an unmanned crossing in Uttar Pradesh's Kushinagar district, an official said. Uttar Pradesh Chief Minister Yogi Adityanath has announced an ex-gratia of Rs 2 lakh for kin of the deceased and ordered an inquiry by the Gorakhpur commissioner. 
The chief minister has also expressed his deepest condolences on this unfortunate incident and directed the district administration to provide all help and medical aid to those injured. As per reports, Adityanath has rushed to Kushinagar for on-the-spot assessment of accident site.
The children, students of Divine Public School, were killed on the spot when Thawe-Kapatanganj passenger train (55075) crashed into the van at an unmanned crossing gate at Behpurva, said Ved Prakash, spokesperson for Railways. 
I have asked senior officials to conduct an inquiry into the incident. Railways will provide an ex-gratia amount of Rs 2 lakh each to families of the deceased, tweets Railway Minister Piyush Goyal on #Kushinagar accident (File Pic) pic.twitter.com/MlxgMrCUtA

— ANI UP (@ANINewsUP) April 26, 2018
"It was unmanned level crossing gate at Behpurva, with Gate Mitra deployed there. He tried to stop but unfortunate incident happened at unmanned gate 45 near Dudhi station in Banaras division," the spokesperson said in New Delhi. 
There were at least 25 people, including children in the van, most of whom were children below the age of 10 years, the official said. The train was on way to Gorakhpur from Siwan. 
WATCH VIDEO | Uttar Pradesh: 13 school kids killed, seven injured as train hits school bus in Kushinagar