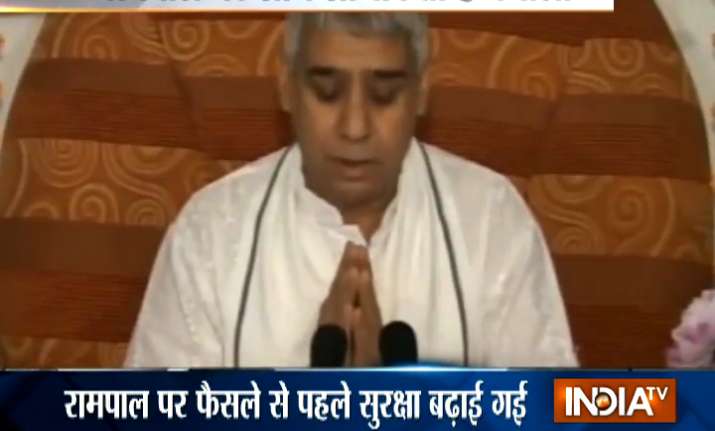 A Hisar court is all set to pronounce verdict on Sant Rampal in Satlok Ashram case today. Police had arrested Sant Rampal on November 18, 2014 from his  Satlok Ashram amid high drama enacted by the self-styled godman and his supporters. Around 15,000 people present inside the ashram were taken hostage by Rampal and his supporters in order to prevent the police from arresting the self-styled godman. Two separate cases were registered against Rampal and his supporters for obstructing government officials from discharging their duties. A court was formed inside the Hisar jail to hear the cases against Rampal and his supporters. The court has completed the hearings and will pronounce the verdict today:
As it happened on Sant Rampal in Satlok Ashram case:
03:00pm- Rampal will remain in jail as there are other cases still pending against him
02:45pm- Rampal acquitted in two criminal cases by Hisar court
08:30am- Police had requested the court to delay the verdict in Rampal case in view of the upcoming berdict in Ram Rahim case. The court acceded to the demand and postponed the pronouncement of verdict for today.
08:00am- Police had arrested Rampal from Satlok Ashram on November 18, 2014 amid high drama and violence enacted by his supporters
07:30am- Security tightened in and around Hisar in view of the upcoming verdict on Sant Rampal