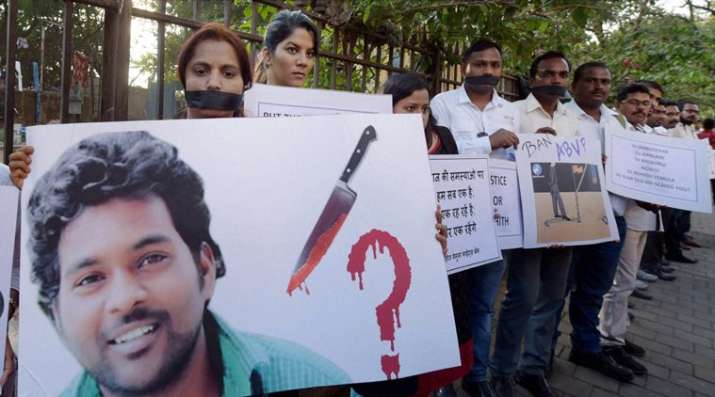 The one man Judicial commission appointed by former HRD minister Smriti Irani to probe the death of Dalit scholar Rohith Vemula has found that his mother had falsely branded herself as a Dalit to avail the benefits of reservation and it was personal frustration not discrimination that drove the 26-year-old to suicide.
According to a report in Indian Express, the one man committee of Allahabad High Court judge AK Roopanwal in its 41 page report to the HRD ministry said expelling Vemula from the hostel was the "most reasonable" decision the university could have taken.
Union Ministers Bandaru Dattatreya and Smriti Irani were only discharging their duties discharging their duties as public servants. and there was no pressure on the Hyderabad Central University authorities, The daily quoted from the judicial report.
The committe also found that Vemula's Dalit birth certificate was issued without proof.
The commission's report is based on the accounts of around 50 people, including students, teachers and staff members. The retired judge also met the joint action committee, which was at the forefront of the agitation after Vemula's death.
Amid a nation-wide outrage on educational campuses over Vemula's suicide, the Roopanwal commission was constituted to probe the reasons for it. Vemula had been suspended by the university a few days before he committed suicide.
The issue of his caste cropped up soon after his death on January 17. Vemula's suicide, seen also as a protest against incidents in the university, led to a huge furore and accusations against the ABVP and BJP of being anti-Dalit and forcing him to take this extreme step.
A case was registered against Dattatreya and Appa Rao under the SC/ST Atrocities (Prevention) Act for abetting Vemula's suicide. Right-wing groups countered the claim of Vemula being a Dalit and demanded that the complaint registered under the SC/ST Act be withdrawn.
The suicide by Vemula had triggered a huge political storm with opposition parties launching a massive attack on the Union government over the issue. They also accused the university authorities of mishandling the situation, which led to Vemula's suicide.