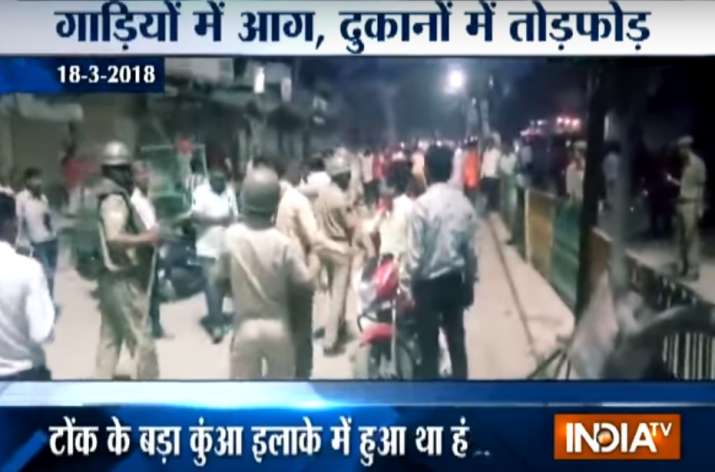 Communal tension gripped Tonk in Rajasthan on Sunday when people of two communities clashed and indulged in arson during passing out of a 'Hindu Nav-Varsh Samiti's rally' on the occasion of Navratra at Bara-Kuna area of Kotwali in Tonk district of Rajasthan. 
Eight persons, including three policemen, were injured when unidentified miscreants allegedly pelted stones at people participating in Bhagwa rally, police said.
Section 144 of the CrPC has been imposed in the area and additional policemen have been deployed to maintain law and order in the district, SP Tonk Yogesh Dadhich said.
"The incident occurred this evening when the rally was being taken out by a Hindu organisation and stones were pelted at them in front of a mosque," Dadhich told media.
Two motorcycles were also set on fire after the stone pelting incident, he said.
The SP said that additional policemen have been deployed in the area, and efforts are on to identify and nab the accused persons.
Over two thousand people of Hindu Nav-Varsh Samiti led by Tonk-Sawaimadhopur MP Sukhbeer Singh Jaunpuria and other local leaders of RSS-VHP-BJP when suddenly people threw stones on them, and in retaliation the violent clash was witnessed around 6.30 pm, the police officials told media. 
A few vehicles were set on fire by the agitators which were doused immediately by calling fire tenders, they said.
Meanwhile, a state VHP spokesman Mahaveer Jain said it was a peaceful rally of over 3,000 people on the occasion of Navratra when miscreants threw stones on them without any reason from their houses and a mosque.
Many of them came with sharp-edged weapons to attack the people in the rally, he alleged.
At least 20 people were injured, 10 were admitted to a hospital, and a few of them are serious, Jain, who is trying to contact his district leaders, said. 
District SP and collector are camping in the area with the magistrate to control the situation, which is said to be tense but under control. 
Watch video: Several injured in clashes between two groups in Rajasthan's Tonk