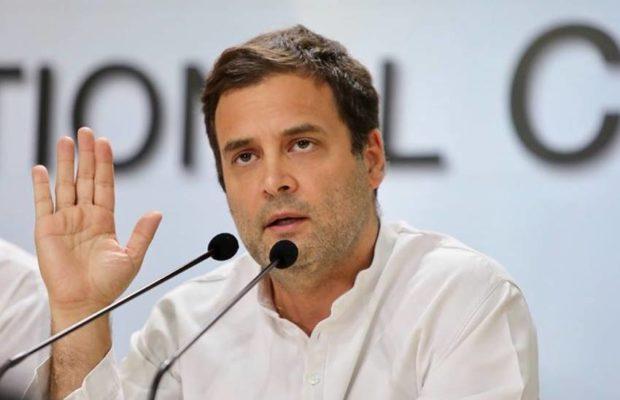 Congress president Rahul Gandhi on Friday took a jibe at Prime Minister Narendra Modi on the issue of "black money" after it emerged that the year 2017 witnessed 50% rise in Swiss bank deposits by Indians.
In a tweet, Rahul Gandhi reminded PM Modi that he had promised to bring back all illegal money stashed abroad and "deposit Rs 15 lakh in each Indian bank account".
The Congress president also targeted Union minister Piyush Goyal, who is presently looking after the Finance Ministry in place of Arun Jaitley, for saying that all money deposited in Swiss banks cannot be termed as black money.
Gandhi claimed that the Modi government had carried out demonetisation to supposedly curb black money but its stance now was totally different. 
"In 2014, he said: I will bring back all the "BLACK" money in Swiss Banks and put Rs 15 lakh in each Indian bank account. In 2016, he said: Demonetisation will cure India of "BLACK" money. In 2018, he says: 50 per cent jump in Swiss Bank deposits by Indians, is "WHITE" money. No "BLACK" (money) in Swiss banks!" the Congress chief said.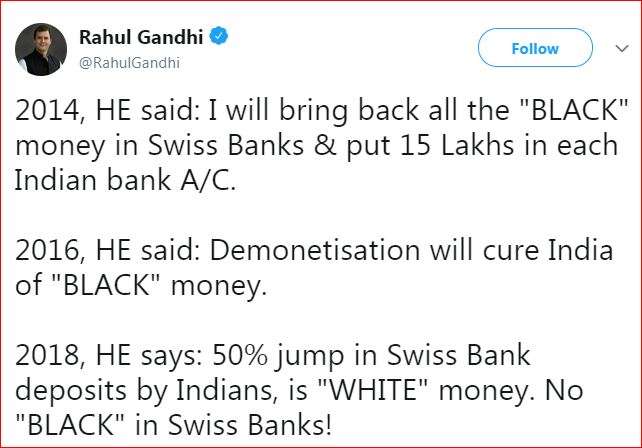 Piyush Goyal had maintained that under an agreement signed by the Modi government with Switzerland, all data from January 1, 2018, will be made available to the Indian government. 
He was responding to a query about the data showing a rise in Indian deposits last year in Switzerland.
"From what I understand (from media reports) 40 per cent increase in foreign remittances are on account of the Reserve Bank's Liberalised Remittance Scheme brought during the previous (UPA) government under which a resident Indian can remit $250,000 per year," the Minister said.
"Then, there are also non-resident deposits... rest assured, if any wrongdoing is revealed, we will take action. With the various measures of this government against black money, Swiss bank deposits have been decreasing," he added. 
The data showed that after falling for three years in succession, money parked by Indians in Swiss banks rose 50 per cent to Swiss Francs 1.02 billion in 2017 over the previous year.
(With IANS inputs)