Follow us on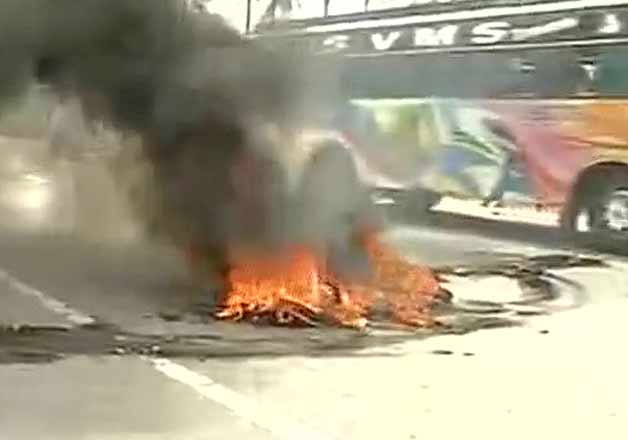 Scores of farmers in Karnataka are today protesting against the Supreme Court's directive to the state government to release 15,000 cusec of water from the Cauvery river to neighbouring Tamil Nadu for 10 days.
Protesters burnt tyres and blocked Bengaluru-Mysuru highway. As a safety measure, the Karnataka government pulled off around 700 buses from the roads. Buses travelling between both the states were also stopped by the protestors and a bus was damaged in Tamil Nadu.
In Tamil Nadu, farmers from the Delta region expressed unhappiness, claiming 15,000 cusec was inadequate for their farming needs and described it as "too little too late".
Tamil Nadu state transport buses were halted at the Hosur Border Bus Stand due to protests in Karnataka. Krishna Raja Sagara Dam and Brindavan Gardens were closed to the public for four days. Hundreds of buses were taken off the roads in Bengaluru-Mysore section and between Chennai and Bengaluru.
Farmers, traders, students and political leaders have called for a shut down in Karnataka's Mandya district today in protest against the apex court order, which will deplete the water level in the Krishnaraja Sagar (KRS) reservoir further, affecting supply to fields and taps.
Mandya district, the nucleus of Cauvery politics, saw a bandh with protesters holding road blockades and dharnas at several places, as hundreds of security personnel, including Central forces, were deployed in the Cauvery belt to maintain law and order.
Prohibitory orders have been clamped around Krishnarajasagar Dam and entry of visitors to it prohibited till September 9, as the Cauvery row hotted up after the Supreme Court direction to Karnataka to release 15,000 cusecs of water to Tamil Nadu for the next 10 days to address the plight of the farmers there.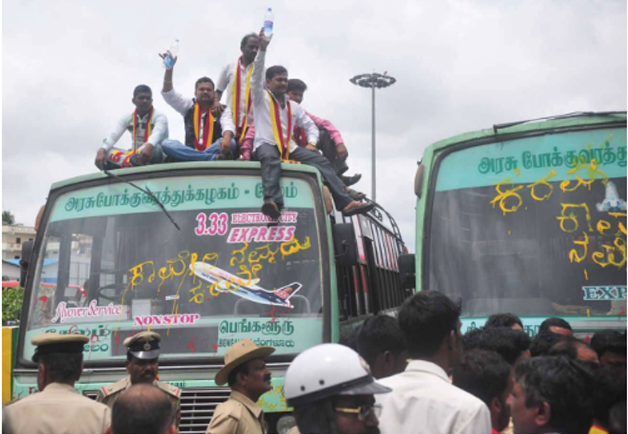 Protesters also mobbed and ransacked several government offices in Mandya forcing their shut down, while attendance at government offices remained thin, police said.
Shops, hotels and other commercial establishments and theatres and hotels remained shut and schools and colleges declared a holiday in the district where state run and private buses are also not plying.
Protests are also being held in Mysuru and Hassan districts, fed by the Cauvery, demanding that Karnataka should not release water. Venting their anger, protesters burnt effigy of Tamil Nadu Chief Minister J Jayalalithaa at several places.
The Supreme Court's direction yesterday triggered an immediate backlash with the farmers' body spearheading the stir, calling for a bandh today in Mandya district.
In Tanjavur, Karnataka state buses were vandalised, while many state transport buses remained out of service at Chennai's CMBT bus terminus.
Karnataka Chief Minister Siddaramaiah, who is holding a meeting of senior Ministers, legal experts and officials, has also invited legislature floor leaders and MPs later today to discuss the further course of action.
Meanwhile, the government appealed to people not to resort to agitation and to maintain calm.
"My appeal to the public is that don't resort to agitation...and keep calm and we will make all efforts to protect the interest of the farmers," Law and Parliamentary Affairs Minister TB Jayachandra told reporters in Bengaluru.
Jayachandra said people should maintain calm as it is an order by the Supreme Court and the government needs to go before the Cauvery supervisory committee and convince it.
"My appeal is be calm, and don't spoil any government property or anything because it is a Supreme Court order. We have to go before the Supervisory Committee and we want to try to convince (it) also," the Minister said.
Former chief minister and state BJP president BS Yeddiyurappa asked the government to file a petition countering the Supreme Court order.
"We don't have water even for drinking purpose, forget about irrigation purpose. Now, they are telling to release water which is not at all possible," Yeddyurappa said.
In Mandya city, Kannada Rakshna Vedike outfit activists held a bike rally and burnt the effigy of Jayalalitha.
G Madegowda, President of Cauvery Hita Rakshana Samithi, the body spearheading the agitation, criticised the chief minister and irrigation minister for their "irresponsible" behaviour over the Cauvery issue.
He also called the district MLAs to resign enmasse to protest against the "injustice."
In Tamil Nadu, buses and trucks heading to Karnataka were stopped at Hosur along the border.
Yesterday also, hundreds of people, especially farmers staged protest demonstrations in the Mysuru region against the SC's order.
The protesters blocked vehicular traffic on the busy Bengaluru-Mysuru state highway by burning discarded tyres and effigies of Tamil Nadu Chief Minister Jayalalithaa and placing barricades at many places enroute.
Farmers have also threatened to hold 'jal satyagraha' (agitation for water) to prevent the state government releasing water from the nearby Krishnaraja Sagar Reservoir (KRS), built across the river basin.
"We will not allow the state government to release water at any cost from the half-empty reservoirs as we don't have enough water for our fields and drinking water," Karnataka Rajya Raitha Sangha leader Nanjungowda at Mandya said.
Several pro-Kannada outfits have called for a Karnataka Bandh on September 9.
According to the state water resources department, due to deficient rainfall during the southwest monsoon this year, the four reservoirs in the Cauvery basin have only 55 per cent of the water.
One thousand million cubic feet (tmcft) of water is equivalent to 28,317 million litres of water. A cusec, which is a measure of flow rate of water per second, is equivalent to a flow of 28.317 litres per second.
The top court had on Monday also directed both the states to make a representation before the supervisory committee which would later tell the court about the ground reality.