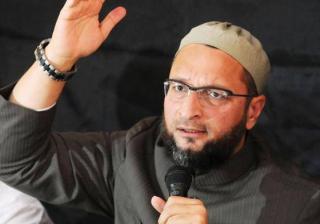 The row over former President Pranab Mukherjee attending an event of the Rashtriya Swayamsevak Sangh event in Nagpur refuses to die. After BJP leaders hailed Pranab's visit to RSS headquarters, All India Majlis-e-Ittehad-ul Muslimeen (AIMIM) Asaduddin Owaisi said that the former president's decision indicates that the Congress is now staring at its end. 
Speaking at a public gathering in Hyderabad on Friday evening, Owaisi said Pranab Mukherjee spent nearly 50 years with the Congress but decided to visit the RSS headquarters which indicates that the Grand Old Party is now 'finished'.
"Congress is finished. A man who spent 50 years in Congress and was President of India visited RSS headquarters. Do you still have hopes from this party?" Owaisi said.
Owaisi criticised Pranab for attending the RSS event overlooking  Congress' secular base. The Hyderabad MP also raised slammed Pranab for describing RSS founder K B Hedgewar as 'great son of Mother India'.
"We would like to tell Pranab Mukherjee, RSS, BJP, Congress, India and Hindu secular brethren that when Nathuram Godse shot Mahatma Gandhi, Sardar Patel had said that RSS people were celebrating," Owaisi added.
Pranab Mukherjee's visit to RSS headquarters earlier this week had drawn a lot of flak from the Congress party, including from his daughter Sharmistha Mukherjee.
Watch: Owaisi slams Pranab over visiting RSS headquarters
Former Union Minister P Chidambaram, however, praised Pranab for letting the RSS as to what was wrong with its ideology.
"Happy that Mr Pranab Mukherjee told the RSS what is right about Congress' ideology. It was his way of saying what is wrong about RSS' ideology," Chidambaram tweeted on Pranab Mukherjee's visit to Nagpur on Thursday.
Speaking at the 'Tritya Varsh Varga' or the last leg of the three-year Rashtriya Swayamsevak Sangh (RSS) training programme at the RSS headquarters in Nagpur, Pranab Mukherjee had said that India's multiple faiths and cultures made it tolerant and that the soul of the nation resided in its pluralism and secularism.
"This plurality of our society has come through assimilation of ideas over centuries. Secularism and inclusion are a matter of faith for us. It is our composite culture which makes us into one nation," he said.
Watch: Pranab Mukherjee's full speech at RSS headquarters