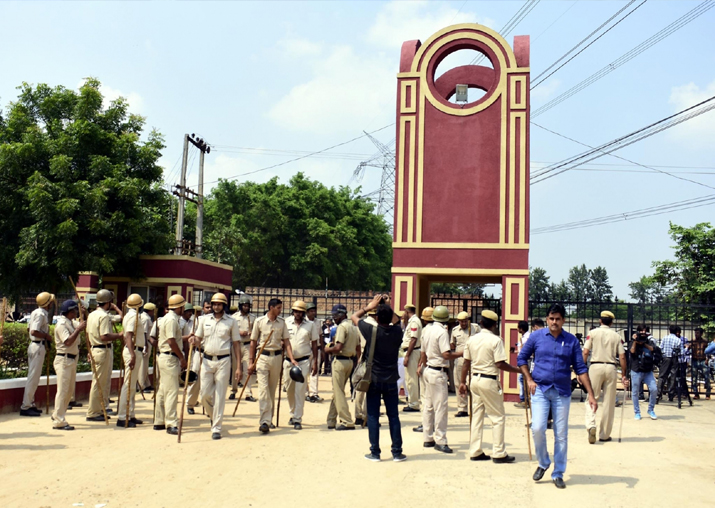 The Central Board of Secondary Education (CBSE) today issued show cause notice to Gurugram-based Ryan International School, where a seven-year-old boy Pradyuman was found dead last week.
The CBI asked the school's management to explain why its affiliation should not be annulled.
A two-member fact finding committee set up by CBSE also noted that the school had failed to observe basic security measures. The panel said that it appeared from the sequence of events that Ryan's International was guilty of gross negligence.
The death could have been avoided had the school been more cautious, the show cause notice said.
"The unfortunate death could have been averted had the school authorities discharged their duty with responsibility, care and security. The school failed to observe the basic security measures as stipulated by the board. From the entire sequence of events it appears that the school is guilty of gross negligence and failed to ensure safety and security of students in its schools," the notice said.
The school authorities have been asked to respond within 15 days on why its provisional affiliation should not be withdrawn for wilful violation of provisions of CBSE by-laws.
The probe panel said that the school had no provision of toilets for drivers, conductors and cleaners and they were using the facilities meant for students and staff. The CBSE notice also pointed out a safety breach in the school boundary wall (covered with barbed wires) which, the committee observed, is a threat to children's safety as anybody can enter the campus. The panel noted the insufficient number of CCTV cameras and said most of the installed cameras did not work.
"School failed to discharge its responsibility to file FIR and inform District Education Officer and CBSE after knowing the incident," the board said, adding that the FIR was subsequently filed by a parent.
The two members of the panel were Y Arun Kumar, deputy commissioner, Kendriya Vidyalaya Sangathan, and Kailash Chand, principal, Govt Co-ed Senior Secondary School, Preet Vihar. The Haryana government yesterday ordered a CBI probe into the murder and announced that it would take over the administration of the school for three months.
Seven-year-old Pradhuman Thakur was found dead with his throat slit inside the school's washroom within an hour after his father dropped him at school last week. The case snowballed into a major national issue of safety and security of children in schools, with vociferous protests held by parents and activists outside Ryan schools in several states.