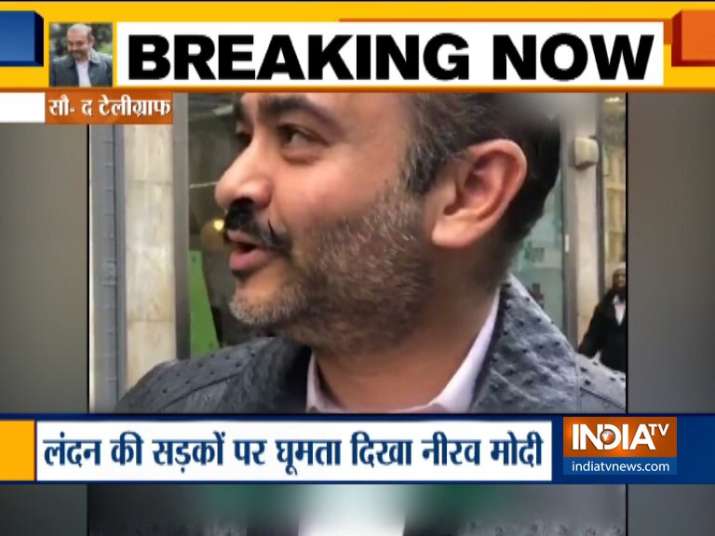 Absconding diamantaire Nirav Modi, who is a prime accused in the Rs 14,000-crore Punjab National Bank (PNB) fraud, has been spotted in London. British newspaper 'The Telegraph' tracked him down and confronted the fugitive jeweller in a busy street. According to the report, he is now involved in a new diamond business. 
The daily zeroed in on him to an £8 million apartment in London's West End. He has been tracked down to a three-bedroom apartment, which occupies half of a floor at the landmark Centre Point tower block.
Nirav Modi was even questioned by a Telagraph reporter on whether he had applied for a political asylum in the UK, to which he smiled and said, "No comments." On further questions over the PNB scam, Modi declined to comment before walking away in search of a cab. 
A two-minute video of the confrontation has been posted on Twitter, which is Nirav Modi's first appearance in the British capital since he fled India early last year. Modi appears to have grown a beard and handlebar moustache. The newspaper said Nirav Modi was wearing a £10,000 jacket, made from Ostrich hide, when he was approached in the street. 
Earlier on Friday, authorities in Maharashtra demolished massive seaside bungalow of Nirav Modi.  The bungalow, which many believed was the symbol Nirav Modi's opulent larger-than-life lifestyle was brought down with explosives. Raigad district authorities had to use more than 30 kgs of explosives to carry out the demolition. It will take almost three days for the authorities to complete the demolition of Nirav Modi bungalow and clear the debris.  
WATCH VIDEO: PNB scam accused Nirav Modi spotted in London
Exclusive: Telegraph journalists tracked down Nirav Modi, the billionaire diamond tycoon who is a suspect for the biggest banking fraud in India's historyhttps://t.co/PpsjGeFEsy pic.twitter.com/v3dN5NotzQ

— The Telegraph (@Telegraph) March 8, 2019