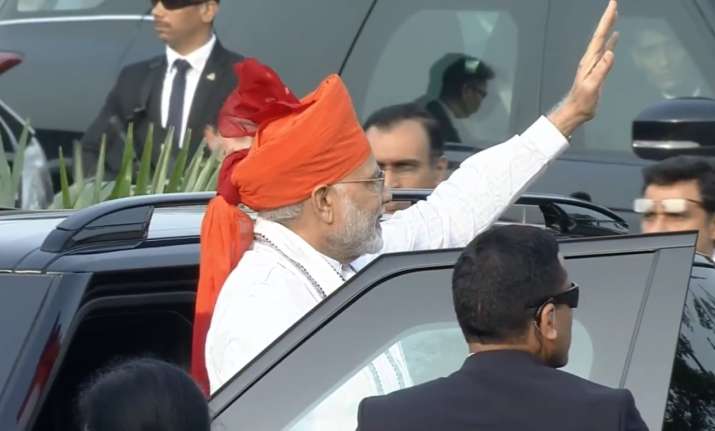 Prime Minister Narendra Modi addressed the nation on the ramparts of Red Fort in Delhi on the occasion of 72 Independence Day of India today. The speech recollected the achievements of his regime in past four years and set the agenda till 2022. 
Top quotes from PM Modi's speech at Red Fort: 
1) On successful Parliament session: 
The recently concluded Parliament session was one devoted to social justice. The Parliament session witnessed the passage of the Bill to create an OBC Commission. Our Parliament has brought justice to the country. Dalits, women and other weak sections of the society have been empowered: PM
2) On pace of nation's growth: 
We are proud of what we have achieved and at the same time, we also have to look at where we have come from. That is when we will realised the remarkable strides the nation has made.  In 2014, the nation did not stop at electing the government. The nation took on the task of nation building. If we had continued at the pace maintained till 2013 then it would have taken us 100 years to get where we have reached. The country is the same but we are witnessing a power of development today. Construction of highways, agricultural products, building up of institutions, etc. have given a new direction to the nation: PM
Read full highlights of PM Modi's Red Fort speech here
3) On MSP, GST, OROP: 
The demand for higher MSP was pending for years. From farmers to political parties to agriculture experts, everybody was asking about it but nothing happened. With the blessings of the farmers, the decision on MSP was taken by our Government: PM
Who did not want the passage of the GST yet it was pending for years? Last year GST became a reality. I want to thank the business community for the success of the GST: PM 
The OROP demand was pending for decades. The people of India, our brave army personnel had faith in us and we were able to take a decision on OROP.We will always take decisions in the interests of our nation: PM
4) On Indian economy at world stage: 
From being seen as among the fragile five, India is now the land of reform, perform and transform. We are poised for record economic growth. India's voice is being heard effectively at the world stage. We are integral parts of forums whose doors were earlier closed for us: PM
The discourse about India's economy has changed from Red Tape to Red Carpet, reform delays and policy paralysis have give way to reform, perform and transform: PM
Catch LIVE Updates on Independence Day celebrations across the nation here
5) On India's strides in scientific community and new manned mission: 
 India is proud of our scientists, who are excelling in their research and are at the forefront of innovation. In the year 2022 or if possible before, India will unfurl the Tricolour in space​. By 2022, we aim to send an Indian, boy or girl, to space. Before India celebrates 75h Independence Day, an Indian will unfurl Tricolour in space. they will travel aboard an Indian space mission, built by Indian scientists: PM
6) On success of schemes under NDA govt's flagship schemes and future targets: 
With a 'Beej Se Bazar Tak' approach, we are bringing remarkable changes in the agriculture sector. The aim is to double farmer incomes by 2022: PM 
As important as economic growth is dignity of the individual. Initiatives such as Ujjwala and Saubhagya Yojana are enhancing the dignity of fellow Indians: PM
Due to Swachh Bharat mission, lakhs of children can lead healthier lives. Even the @WHO has lauded the movement. Mahatma Gandhi led the Satyagrahis to freedom.  Today, the Swachhagrahis have to ensure a Swachh Bharat: PM
Pradhan Mantri Jan Arogya Abhiyaan will be launched on 25th September this year. It is high time we ensure that the poor of India get access to good quality and affordable healthcare: PM
Also read | Independence Day: Multi-layered security across country, forces on high alert in Kashmir Valley
7) On his fight against corruption and black money: 
The honest taxpayer of India has a major role in the progress of the nation. It is due to them that so many people are fed, the lives of the poor are transformed​. Credit of social schemes goes to honest tax payers. When the honest tax payer has a meal, his tax is feeding three poor families and it's credit goes to them: PM
The rumours being spread about not paying tax payers hamper nation's development. Your tax is being used for nation's development, and we stand here to make sure that it is not wasted on corrupt practices and to benefit people with vested interests: PM
We will not spare the corrupt and those who stashed black money. They have ruined the country. Delhi's streets are now free from power brokers. From the voice of power brokers, the voice of the poor is heard: PM
8) On Armed forces and AFSPA: 
On behalf of the people of India, I bow to all those great women and men who sacrificed themselves for the nation during the freedom movement: PM
On one hand our armed forces help Indians during natural calamities, they also carry out surgical strikes on the enemy: PM 
I am happy to announce today from Red Fort that from now onwards women personnel recruited through short service commission to be given permanent commission like men in armed forces: PM 
Also read | Google celebrates India's 72nd Independence Day with a colourful Doodle
9) On India's daughters - progress, security and Triple Talaq: 
We are proudly celebrating Independence Day today as six women officers of the Indian Navy, circumnavigated the globe recently (on INSV Tarini): PM
I am proud of the fact that three women judges in Supreme Court are delivering justice. Since independence, this is the first cabinet where so many women are a part of the cabinet: PM
Incidents of rape are painful for the victim, but the nation must feel rape victim's pain a thousand times over. There is a need to expedite the justice in rape cases. We have to free our society and country from the mentality of rape. Recently in Madhya Pradesh a rapist was hanged by fast track court. We should spread this news and make people aware. Rule of law is supreme, no one can take law in their hands: PM
The practice of Triple Talaq has caused great injustice among Muslim women. We are trying to end this practice but there are some people who are not wanting it to end. I ensure the Muslim women that I will work to ensure justice is done to them: PM
10) On internal security: 
There is a sense of international security in te country.  I am happy to announce that due to continuous efforts of our armed forces the situation has come under control in sensitive regions and AFSPA has been removed form Tripura and Meghalaya. The Left-wing Naxalism has been reduced from 126 districts to just 90 districts.
In Kashmir, we have taken the path shown by Atal Bihari Vajpayee, which is the correct path. We do not seek to walk the path of of bullets and abuses, but of peace and cooperation. In coming months, people in kashmiri villages will get a chance to elect their own panchayats: PM
PM Modi's speech and 72nd Independence Day: Watch full speech here