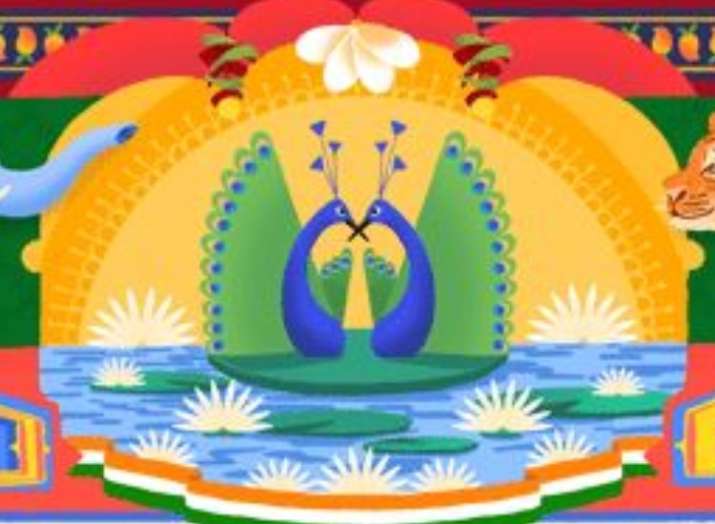 Following its tradition of celebrating international events, tech giant Google on Wednesday commemorated India's 72nd Independence Day with a special doodle. The doodle features the national animal and national bird of the country, tiger and peacock, respectively.
On this day, every year, India celebrates its freedom from the British colonial rule in 1947. The same day, the country also separated from Pakistan. The historic event is celebrated on this day through religious ceremonies, parades, and official government functions.
On the eve of the day, President Ram Nath Kovind addressed the nation and urged the students to spend a few days in villages to "understand our country." He also said that this year is special as it marks the 150th birth anniversary of Mahatma Gandhi, hence, people should try and adapt his "ideas and maxims."
Happy Independence Day 2018: Images, Quotes, Wishes, Facebook and WhatsApp Status

Meanwhile, Prime Minister Narendra Modi will also unfurl the national flag and address the nation from the historic Red Fort later in the day. For the past three years, PM Modi has invited ideas and suggestions directly from people. According to MyGov.in, PM Modi will pick up some of the ideas in his speech. Some of the suggestions already received on the website include the ones on cases of rape, open defecation, reservation system and education.
Just like the search giant Google, August 15 is the day to respect and acknowledge the pride and security our nation has given to its citizens all these years. It is the time to remember all the sacrifices our freedom fighters made in order to make their fellow citizens live the dream of Independent India.
72nd Independence Day: History, Importance, Significance, Why it is celebrated on 15th August
(With ANI inputs)