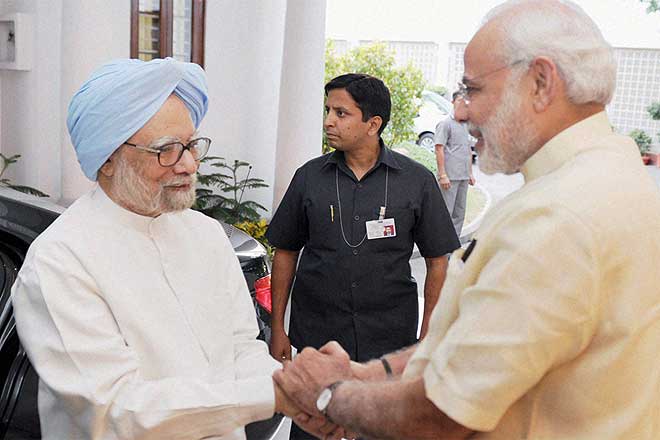 Taking a jibe at Prime Minister Narendra Modi for his "long silence" over Kathua and Unnao rape cases, former PM Manmohan Singh said that the prime minister should follow the same advice that he (Modi) gave to him (Manmohan) during UPA rule and "speak more often".
In an interview to The Indian Express, Manmohan recalled how Modi, the then chief minister of Gujarat, taunted him during UPA regime by referring to him as "'Maun-Mohan Singh".
Claiming that he had lived with comments like these his whole life, Manmohan Singh said, "But I think the prime minister should follow his own advice to me and he should speak more often. Through press (reports) I know that he used to criticise me for not speaking up. I feel that the advice that he used to give me, he should follow it himself."
The former prime minister said that he was happy to note that PM Modi finally broke his silence on these horrific incidents last Friday at an event in Delhi by saying the "daughters of India" will get justice and the guilty won't be spared.
However, he added that Modi's failure to speak up earlier had allowed people to think that they could get away without stern action being taken against them.
The former PM also said that, in his opinion, those in authority must speak up in time in order to give a lead to their followers.
He also pointed out that  after 2012 Delhi gangrape , the UPA government had taken necessary action by amending the laws around rape.
An eight-year-old girl was abducted , raped and murdered in Rasana village near Kathua in Jammu and Kashmir. The state police has arrested eight people in connection with this case and chargesheets have been filed against all of them.
A 17-year-old girl from  Uttar Pradesh's Unnao district has accused BJP MLA Kuldeep Singh Sengar of raping her along with his accomplices.