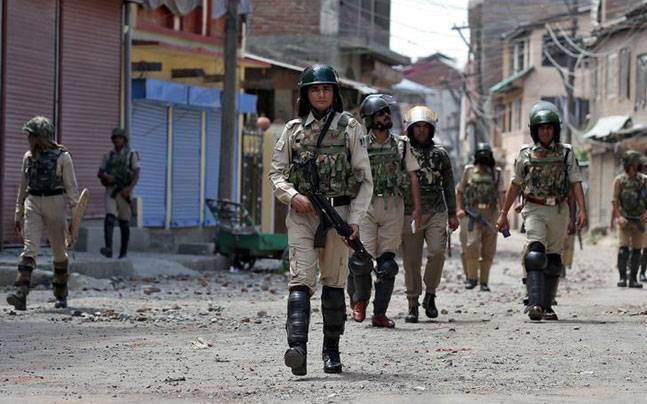 Information sought under the Right To Information on the efficacy of the infamous anti-riot "12 Bore Pump Action Gun", or the pellet gun, has been refused by the Indian Ordnance Factory on grounds that it will adversely affect the security of the country.
In its response to an RTI application, the Ordnance Factory Board cited sections 8(1)(a) which exempts from disclosure information related to security and strategic matters and section 8(1)(d) which exempts information related to commercial confidence.
Venkatesh Nayak of Commonwealth Human Rights Initiative, in his application, had sought details of every transaction that took place from January 1, 2010, till date with regard to the gun besides the efficacy and impact of the anti-riot weapon and all types of cartridges usable with such guns.
He approached the Ordnance Factory Board Headquarters seeking records related to specification and physical characteristic of riot-control weapons produced by it, their prices, sale details of "12 Bore Pump Action Gun" and related ammunition.
Nayak also sought to know details such as the identity of the buyer, date of sale, sale price, and quantity of such guns and related ammunition sold.
The RTI application was transferred to different authorities in the Board before being rejected by the Ordnance factory in Khadki, Pune, which cited the exemptions to refuse disclosure of information.
Questions have ben raised on the efficacy of pellet guns which were used to disperse protesters in Kashmir Valley as many people lost their eyesight and some deaths were also attributed to them.
The violence which claimed over 80 lives was triggered on July 8 following the killing of Hizbul militant Burhan Wani, but pellet guns are being used much before it.
"I had not asked information about weapons and ammunition used to defend the country against external aggression. I was only asking information about the specifications and characteristics, pricing and sales data about anti-riot weapons.
"Copies of reports that indicate the efficacy of such weapons and their impact on human beings who are targeted," Nayak said.
He claimed there is more proactive disclosure about the specifications of defence equipment than anti-riot weapons and ammunition which are used against citizens within the country.
(With inputs from PTI)