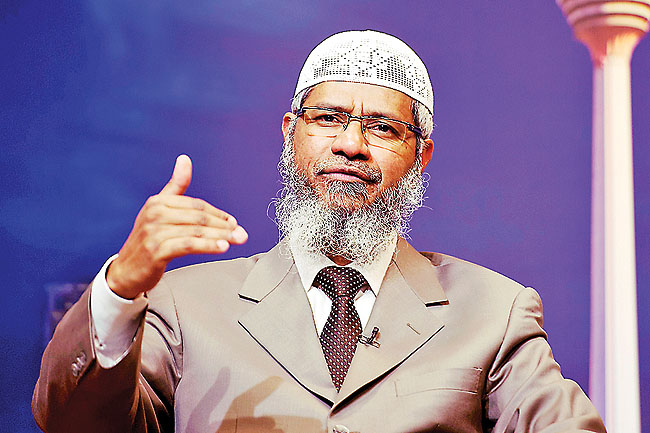 New Delhi: It was not just the Dhaka attackers who were inspired by Mumbai based Islamic televangelist Zakir Naik, it has come to light that the leader of the Hyderabad module of ISIS, Ibrahim Yazdhani, was deeply influenced by the controversial Islamic preacher.
During his interrogation by NIA, Yazdani revealed that his inclination towards violent outfits working to establish Shariah law was also because of Naik.
He told NIA investigators that he was following Naik's speeches on TV and YouTube since 2004.
Yazdani even attended Naik's 10-day-long camp organised by Naik-led Islamic Research Foundation (IRF),as a volunteer in 2010 and listened to his sermons, sources told Times of India.
Infact, Ibrahim Yazdani's journey to Ahle-Hadees, a puritanical strain of Islam, started only after listening to Naik when he was a teenager," said an official.
The 29 year old is alleged to have formed the Hyderabad module along with 10 others after coming in touch with Syria-based handlers.
A couple of days after the gruesome Dhaka attack,investigators in Bangladesh found that two of the five Bangladeshi militants who brutally massacred 20 people at a posh restaurant in the capital, used to follow three controversial Islamists including Zakir Naik.
Militant Rohan Imtiaz, son of an Awami League leader, propagated on Facebook last year quoting Peace TV's controversial preacher Naik "urging all Muslims to be terrorists", the Daily Star reported.
Responding to the report, the home ministry said that there is "no formal request" from Bangladesh for Zakir Naik.  "We have to have evidence to produce before court for arresting him," Minister of State Kiren Rijiju told reporters in New Delhi.
Other terror suspects who were reportedly fans of Naik include Afghan-American Najibulla Zazi, who was arrested in 2009 for an alleged conspiracy to bomb the New York subway, Dr Kafeel Ahmed who stormed Glasgow airport in an explosives-laden car in 2007, and Mumbai's Rahil Sheikh, arrested for the 7/11 serial train blasts.
Naik, a popular but controversial Islamic orator and founder of Mumbai-based Islamic Research Foundation, is banned in UK and Canada for his hate speech aimed against other religions. He is among 16 banned Islamic scholars in Malaysia. He is wildly popular in Bangladesh through his Peace TV although his preaching often demeans other religions and even other Muslim sects, the report said.