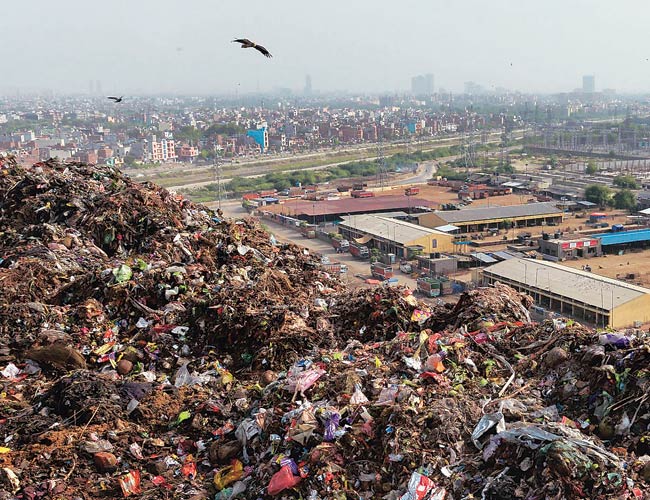 Putting a complete ban on open burning of waste including at landfill sites, the National Green Tribunal (NGT) today declared a fine of Rs 25,000 on waste burning in bulk.
It also asked the state governments and the Union Territories to implement the Solid Waste Management Rules 2016 and submit an action plan within four weeks from the judgement in this connection.
A bench headed by NGT Chairman, Justice (retd.) Swatanter Kumar on Thursday said: "We specifically direct that there shall be complete prohibition on open burning of waste on lands, including at landfill sites.
"Violators including the project proponent, any person or body responsible for such burning, shall be liable to pay environmental compensation of Rs 5,000 in case of simple burning, while Rs 25,000 in case of bulk waste burning."
The NGT said that the environmental compensation shall be recovered as arrears of land revenue by the competent authority in accordance with law.
Justice Kumar also directed the Central Pollution Control Board (CPCB) and the respective State Boards to conduct survey and research by monitoring the incidents of such burning and to submit a report to the Tribunal as to what pollutants are emitted by such illegal and unauthorised burning of waste.
The NGT also ordered all the state governments, Union Territories and civic bodies across the country to implement the Solid Waste Management Rules 2016 in all respect.
In a comprehensive order, the NGT said that the steps were required to be taken in a time bound manner for this every state and UT will have to enforce and implement the Solid Waste Management Rules, 2016 in all respects without any further delay.
The Environment Ministry in April had revised 16-year-old rules for solid waste management with an aim to start more solid waste treatment plants across the country and setting agendas for central ministries, state governments and local bodies.
The new rules of solid waste management programme are aimed to cover 17,000 inhabited areas -- to benefit 45 crore people directly while as of today the solid waste management programme benefits only 15 crore people.
NGT also asked the states and the Union Territories to prepare and submit an action plan regarding the implementation of the rules.
"Irrespective of the fact that which technology is adopted by a state, it is absolutely essential that the states/UTs prepare complete and comprehensive action plan for management, processing and disposal of its solid municipal waste in accordance with the Rules and this judgement," the order said.
The states will have to submit the plan within four weeks from the date of pronouncement of the judgment.
The judgement came following the 20 years of battle by the litigator and waste management crusader Almitra H. Patel. The Supreme Court had transferred the case to the Tribunal in 2004.
(With IANS inputs)