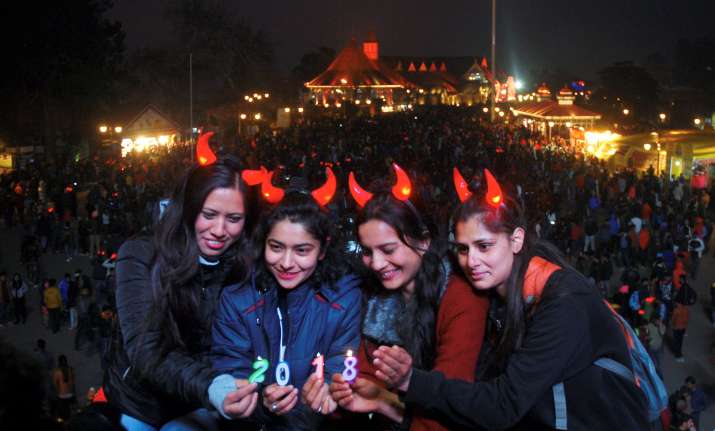 People across metro cities in India thronged to landmark locations, malls and restaurants to celebrate New Year 2018 amid heavy security cover and fire concerns raised by recent Mumbai pub blaze. 
Several historical landmarks were lit with bright coloured lights to mark the end of 2017 and to welcome 2018. Heads of states from across the country extended their wishes to public. 
Bihar Governor Satya Pal Malik and Chief Minister Nitish Kumar  extended new year greetings to the people of the state. In his message, Malik wished for "an atmosphere of peace, prosperity and social harmony" to prevail in 2018 and hoped that the state will keep marching towards progress. 
Kumar hoped that 2018 will be an year of "endless accomplishments" wherein "Bihar will carve a niche for itself on not just the national level, but also globally". 
Delhi BJP chief Manoj Tiwari decided to welcome 2017 at a slum in Todapur area in New Delhi. He will also visit the Yamuna Bazar and stay there till midnight to ring in the New Year with the residents, an official party statement said. 
Meanwhile, Union Home Minister Rajnath Singh is going to ring in New Year 2018 with bravehearts of ITBP in Matli on the Indo-China border. Tomorrow, the minister will proceed on the new year's day to the Nelang valley. 
#Uttarakhand Union Home Minister Rajnath Singh met families of Indo-Tibetan Border Police personnel in Uttarkashi's Matli pic.twitter.com/t2oTtQUP3Y

— ANI (@ANI) December 31, 2017
In Delhi, Kolkata, Bengalare and Lucknow, heavy security measures were deployed to ensure safety and security of women, and curb drunken driving. 
Uttar Pradesh: Security heightened in Lucknow on new year's eve, police conduct breathalyzer test ; Visuals from Hazratganj pic.twitter.com/jwTe426Wol

— ANI UP (@ANINewsUP) December 31, 2017
Karnataka: Security heightened, drone cameras being used for surveillance in parts of Bengaluru on new year's eve ; Visuals from Brigade Road pic.twitter.com/cN7utlLybG

— ANI (@ANI) December 31, 2017
Delhi
The Delhi Traffic Police curbed all traffic from city centre and party hub Cannaught Place after 8.30 pm and issued route deviations for several other parts of the city. 
All private and public transport vehicles shall be restricted from 8.30 pm onwards at Connaught Place in central Delhi till the celebrations end, an official release said.
"Vehicular traffic in the inner, middle or outer circle area of Connaught Place will be restricted," it said.
However, vehicles with labels issued by Delhi Traffic Police and emergency vehicles will be allowed to pass through.
"A special drive against drunken driving, jumping signals and dangerous driving will be undertaken by the traffic police," it said.
Meanwhile, several Delhites also thronged temples, gurudwaras and churches for midnight prayers. 
Delhi: Devotees throng Sai Baba Temple to offer prayers on new year's eve pic.twitter.com/eG9VLvDeOC

— ANI (@ANI) December 31, 2017
Kolkata
The festival spirit of city of lights was at its prime on Sunday. Thousands of people thronged popular tourist spots in the city such as the Victoria Memorial, the Alipore Zoo and the Eco Park during the day, while New year's eve revellers headed towards the brightly illuminated Park Street area as dusk set in. 
People went for strolls at Park Street, the Christmas-New Year celebration spot since the British rule.  The area houses a number of popular pubs and eateries such as Trincas, Mocambo, Olypub that were filled to capacity with long queues seen outside. 
To ensure there is no threat to revelry, the police have made heavy security bandobast setting up CCTV cameras to keep a hawk's eye on the proceedings.  "Over one thousand police personnel, including hundreds of policewomen, are mingling among the crowd at Park Street which is witnessing the largest turnout at midnight and keeping vigil on the movement of crowd," a Kolkata Police official said. 
Meanwhile, Fire Brigade personnel were continuously monitoring safety standards in pubs in the city in the backdrop of recent Mumbai blaze which claimed 14 lives.  
Mumbai 
Shook by the recent Kamala Mill fire tragedy, celebrations in Mumbai are likley to be muted this year. The fire at the '1 Above' restaurant in city's dining has left, those seeking to celebrate with limited options. 
Most of party-goers are likely to move to Navi Mumbai or Thane to celebrate tonight. 
Mumbai's Chhatrapati Shivaji Terminus and Brihanmumbai Municipal Corporation building lit up on new year's eve. pic.twitter.com/0M6TZPd94A

— ANI (@ANI) December 31, 2017
The civic officials yesterday demolished illegal structures at 314 sites in Mumbai. The BMC had also sealed seven hotels and seized around 417 LPG cylinders during the action. 
While some revellers will be welcoming 2018 in restaurants in the famous hill station Lonavala some have decided to do so in Pune, nearly 150 kms away from the commercial capital. 
Some party goers will be celebrating in Navi Mumbai, Thane, or at farm houses located near Mumbai.  
The Brihanmumbai Municipal Corporation (BMC), which initiated the mega demolition drive two days back, has adopted a strict stand to not heed to requests by pubs and hotel owners to delay the action in view of New Year celebrations.  
Santosh Shetty, president of Indian Hotels and Restaurants Association (AHAR) said they were expecting subdued celebrations this time. 
Shetty said they have appealed to people to pay tributes to the victims in the wake of the fire tragedy.  "We are not expecting too many people on the streets for celebration," he added. 
Chennai
New Year came early for several Tamil Nadu residents as Tamil superstar announced his official entry into politics. Soon after the announcement, Chennai was drenched in sounds of celebrations and fire crackers. 
Coimbatore: Earlier visuals of #Rajinikanth fans bursting crackers, distributing sweets and offering prayers after he announced his political entry. pic.twitter.com/S96CUwHLBH

— ANI (@ANI) December 31, 2017
Meanwhile, Tamil Nadu Governor Banwarilal Purohit, Chief Minister K Palaniswami and various political party leaders also greeted people on the eve of new year.  
"I extend my warm greetings and best wishes to the people of Tamil Nadu at the dawn of New Year 2018", Purohit said. 
"On this happy occasion let us all resolve to work together in a spirit of harmony and friendship to usher in progress and development so as to create a brighter and better tomorrow", he said in a Raj Bhavan release.  
Chief Minister K Palaniswami in his greetings message appealed the people to make use of the various schemes implemented by the government and said everyone should unite and work for the welfare of the state.