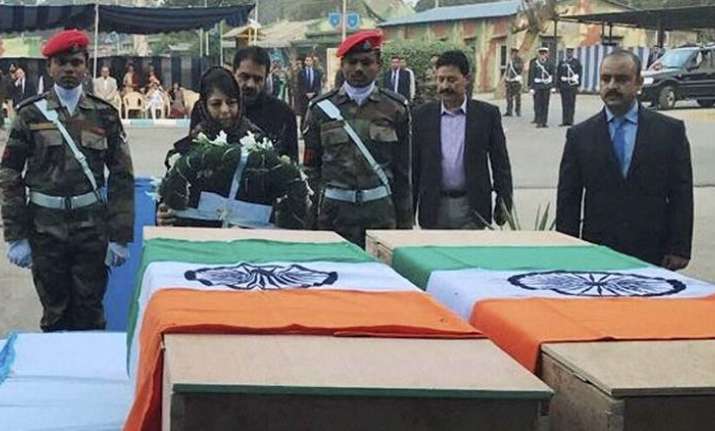 Three terrorists who stormed the Army base in Jammu and Kashmir's Nagrota on Tuesday and killed seven defence personnel have carried along posters written in Urdu saying that the attack was to avenge the hanging of 2001 Parliament attack accused Afzal Guru.
"Afzal Guru shaheed ke inteqaam ki ek aur kisht (another instalment of our vengeance for martyr Afzal Guru)," the poster reads.
The poster proclaims the action to be the work of "Ghazwa-e-Hind key fidayeen", or holy warriors fighting for Ghazwa-e-Hind — some neo-fundamentalist sects attribute the saying to the prophecy of an apocalyptic war with India.
The squad is suspected to have carried out the Pathankot terror attack as well, having left a similar note behind in the car used to access the airbase.
 "The note prima facie points to the involvement of Jaish, subject to further investigation,"  a senior intelligence functionary told Times of India.
Guru was convicted for the attack on Parliament in 2011 and subsequently hanged in a Delhi prison in 2013.
These posters indicate that the attackers may have been linked to the Jaish-e-Muhammad, which calls its fidayeen units in Kashmir the Afzal Guru Squad, Indian Express quoted intelligence sources.
Meanwhile, army has said that the three terrorists killed in Samba in Jammu might have crawled through an 80-metre-long tunnel under farm lands to cross the International Border (IB), the BSF chief said today.
The tunnel, BSF officials said, was discovered during searches carried out after no breach was found in the barbed wire fencing that runs along the border in the area where the three Samba terrorists were shot.
Evidence that the Jaish-e-Muhammad carried out the Nagrota strike could lead New Delhi to resume its stalled diplomatic efforts to have the organisatio''s head, Maulana Masood Azhar, listed by the United Nations as a terrorist. 
Defence Minister Manohar Parrikar on Tuesday asked for a detailed report from the Army regarding the fresh SOP and whether it's being followed or not.
Parrikar mentioned that after November 24 report issued by the multi-agency center, a fresh SOP for heightened security of Army camps and bases was issued.