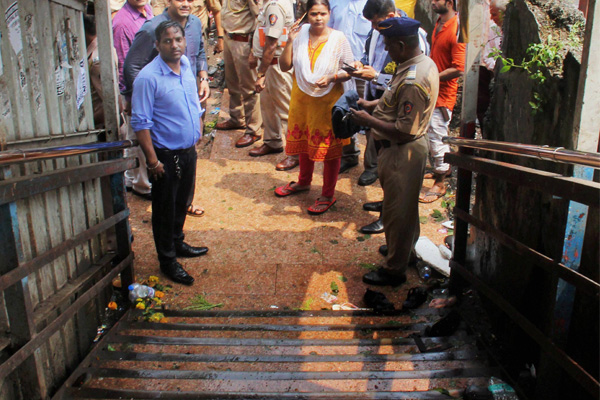 At least 22 people were killed and several others were injured in a stampede that took place on a foot overbridge (FOB) linking Elphinstone Road and Parel suburban railway stations in Mumbai this morning. 
What is noteworthy is the fact that daily commuters were anticipating something disastrous to happen on this FOB in view of the overcrowding at peak hours. They had repeatedly alerted the administration to take corrective measures to avoid any untoward incident. However, all such pleas fell on deaf ears.
 
Just two days back, senior journalist Santosh Andhale had requested Railway Minister Piyush Goyal to take steps to tackle overcrowding on this FOB.
Andhale, senior Editor with mymedicalmantra.com who earlier worked with DNA and Mumbai Mirror, posted a tweet with a photo of the overcrowded FOB on 27 September 2017 . Andhale tagged Piyush Goyal in his tweet and requested him to take corrective measures. He had also tagged Western Railway in the tweet.
Western Railway responded to the tweet of Andhale and asked him to specify the location which Andhale did. The Western Railway informed Andhale that the matter has been forwarded to Central Railway.
@PiyushGoyal sir pls do something related to this Parel bridge in Mumbai. Thanks @WesternRly pic.twitter.com/2FNJbDMnvV

— Santosh Andhale (@Santosh_Andhale) September 27, 2017
However, a tragedy took place on the FOB before the Central Railway could take necessary  steps to avert any accident. The system  waited for a common man to inform it of the overcrowding on an important FOB but it could not prevent the tragedy that cost 27 innocent lives.  
We need immediate action, not inquiry @RailMinIndia @PiyushGoyal #Elphinstone #MumbaiStampede pic.twitter.com/ZUXFPtesF8

— prathamesh waidande (@PrathamWaidande) September 29, 2017
Heart cries when a hardworking Mumbaikar dies to such a stampede #elphinstonestampede

— Dr. Deepak R Gupta (@deepakrgupta) September 29, 2017
Stampede at #parelbridge reveals that's not only in rail comman man is also insecure on Railway station also #bullettrain mock

— Ahsan Khan (@Ahsank503) September 29, 2017
Authorities kept ignoring stampede warnings. We actually waited for this tragedy to happen. @PiyushGoyal #MumbaiLocalStampede https://t.co/oIAdDdkz0i

— Rahul Singh (@rahulreports) September 29, 2017
#Elphinstone Sad only how events like this #stampede get the attention of our netas. Is anything going to be done to improve our city infra?

— Samuel Leslie (@sammylesliee) September 29, 2017
#Elphinstone stampede | Helpline numbers: Churchgate station- 22039840, Mumbai Central station- 23051665, Elphinstone Road station- 24301614

— Priya Adivarekar (@priyaadivarekar) September 29, 2017
#Elphinstone incident is an example of sheer negligence
& what about granting compensation- can loss of lives be compensated?😢😨😠

— Akshat Goyal (@Aksh_Bharat) September 29, 2017
Bhai thodasa paisa Infrstrctre pe bhi kharch kar do, nahi to logoki uper ki muft me #Ticket kat jayegi. #BulletTrain #Elphinstone #Stampede

— Yatin Narayan (@yatin_narayan) September 29, 2017
When will our government wake up? How many more tragedies does it need?#Elphinstone

— Vishal Chaudhary🇮🇳 (@VishalcINC) September 29, 2017
#Elphinstone is a massive human tragedy. Can't think of someone who leaves for work/college as usual, but never comes back #shattering ☹️

— Shr (@shrkgeek) September 29, 2017
More people die every year due to #IndianRailways than the USA did at the PEAK of the Iraq war. #elphinstone #elphinstonestampede pic.twitter.com/IeoJM2hCRI

— Adarsh Loyal (@VocabulousLoyal) September 29, 2017