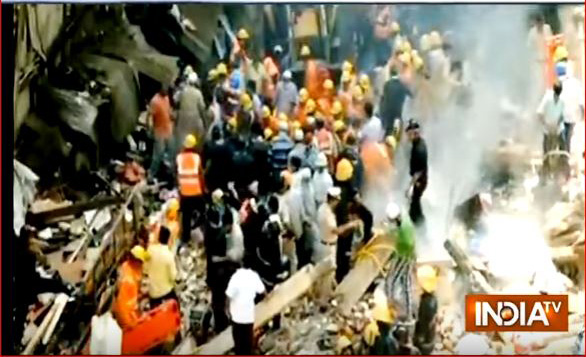 The death toll in Mumbai building collapse has mounted to 34 while the number of injured has touched 15, according to news agency ANI. The rescue operations are taking place in full swing and 14 people have been evicted alive from the debris so far. These people have been admitted to the JJ Hospital. It is believed that around 8-10 people are still trapped under the rubble of the five-storey structure and teams from various agencies including NDRF, Mumbai Police and Fire Brigade are trying their best to rescue them. The NDRF team has deployed hi-tech cameras and dog squads in the rescue operation.
The  rickety 117-year-old building with residences, godowns and a play school collapsed in the congested Bhendi Bazaar in south Mumbai on Thursday morning.This is the second major building collapse in the city in just over a month, after the crash of a residential complex in suburban Ghatkopar on July 25 which left 17 people dead.
The tragedy struck barely two days after torrential rain brought the city to its knees, crippling road, rail and air services, inundating homes and leaving at least 10 people dead. Many suspect the downpour caused further damage to the ramshackle structure, causing its crash.
Fire brigade officials said some nine families lived in the dilapidated Husaini Building, which also housed a play school. The children had a providential escape as the building came crashing down minutes before they arrived.
The ill-fated building had got clearance for redevelopment in 2011, and was supposed to be vacated, Minister of State for Housing Ravindra Waikar said.
Chief Minister Devendra Fadnavis, who visited the spot on Thursday, ordered an inquiry by the state's additional chief secretary.
He also announced a compensation of Rs 5 lakh for the kin of the deceased. The government will bear all medical expenses of those injured, he said.
Additional chief secretary has been asked to conduct a probe to find out what led to this unfortunate incident, the chief minister said.
"The redevelopment project had been approved by the agencies concerned, and subsequently this building was supposed to be demolished. The final approval for demolition was granted in May 2016, but a few families opted to stay in the dilapidated building which led to this unfortunate loss of life," he said.
Some residents claimed that about 40 people belonging to nine families lived in crammed rooms in the structure, which was declared "unsafe" by the Maharashtra Housing and Area Development Authority (MHADA).
The Saifee Burhani Upliftment Trust (SBUT), which was to have undertaken redevelopment of the 117-year-old structure, said the building housed a total of 13 tenants -- 12 residential and one commercial. "Of them, the trust had already shifted seven families in 2013-14," it said in a statement.
"MHADA notices dated March 28 and May 20, 2011, declaring the building dilapidated, were issued along with an offer of transit accommodation to the remaining tenants and occupants," it said.