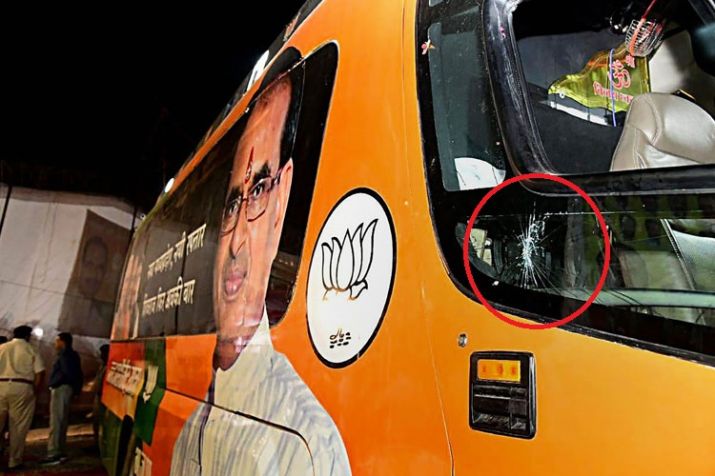 Madhya Pradesh Chief Minister Shivraj Singh Chouhan was attacked with stones and a slipper in Sidhi district, during Jan Ashirwad Yatra ahead of the assembly polls in the state.
Stones were pelted at the vehicle carrying Chouhan in Churhat area near Sidhi district and a slipper was hurled at him when he was addressing an election rally at Sidhi on Monday. 
The incident in Churhat area took place late on Sunday in the assembly constituency of Congress's Ajay Singh.
The chief minister slammed the Congress party, alleging its involvement and questioned Sonia and Rahul Gandhi as to which direction they are taking their party to. He also said that the Congress was after his blood. 
"I want to ask Sonia Gandhi, Rahul Gandhi & Congress state president Kamal Nath, in which direction do they wish to take Congress? Is it fine what their leaders and workers are doing? They are after my blood," Chouhan said.
Meanwhile, Madhya Pradesh Home Minister Bhupendra Singh said the attack on the "Rath" (campaign vehicle) of Chief Minister Shivraj Singh Chouhan during his "Jan Ashirwad Yatra" was part of a conspiracy to kill him.
Talking to mediapersons, the Home Minister said: "Stones were thrown at the vehicle of the Chief Minister in a pre-planned manner. The stones hit the glasses of bus, which could have hit him (Chouhan) as well.
"It was clearly a pre-planned attack on the life of the Chief Minister but alert security personnel thwarted the attempt."
Three persons have been arrested in connection with the attack, he added.
On the other hand, the Congress has said that the incident was a result of intelligence failure and therefore, the Home Minister should resign.
Ajay Singh, Leader of the Opposition in state Assembly and MLA from Churhat constituency in Sidhi district where the incident took place, said: "Bhupendra Singh is a complete failure as the state's Home Minister. He should resign and the Chief Minister should look for another person to take the responsibility."
The Congress leader said his party and its workers have no role in the attack. "On the contrary, it's a conspiracy hatched by the ruling Bharatiya Janata Party (BJP) itself."
On Sunday night, some miscreants threw stones at the Rath carrying Chief Minister Chouhan -- who is touring the state ahead of Assembly elections -- in Churhat area, said the police.
(With agency inputs)