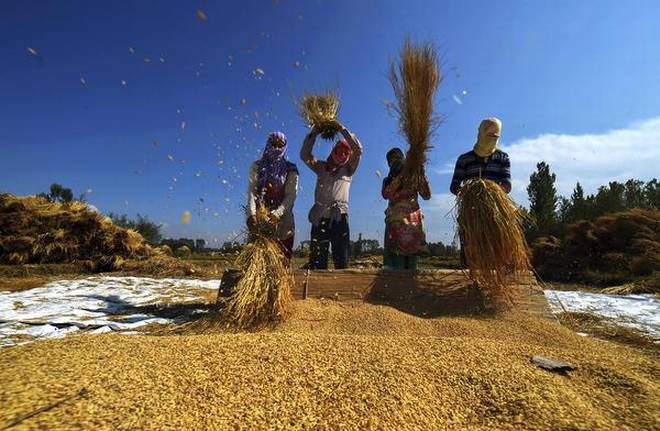 Prime Minister Narendra Modi, in his first Cabinet, has made a big decision for farmers. Under the Pradhan Mantri Krishi Sinchayee Yojana or PMKSY, as many as 14.5 crore farmers of the country will get Rs 6000 every year. The Cabinet has approved the extension of Pradhan Mantri-Kisan yojana to all farmers. 
The Union Cabinet also approved a new Central Sector Scheme, Pradhan Mantri Kisan Pension Yojana. It is a voluntary & contributory pension scheme for small&marginal farmers across the country. Central Govt will contribute to the pension fund in equal amount as contributed by the farmer.
Pradhan Mantri Krishi Sinchayee Yojana or PMKSY was formulated amalgamating schemes viz. Accelerated Irrigation Benefit Programme (AIBP) of the Ministry of Water Resources, River Development & Ganga Rejuvenation (MoWR,RD&GR), Integrated Watershed Management Programme (IWMP) of Department of Land Resources (DoLR) and the On Farm Water Management (OFWM) of Department of Agriculture and Cooperation (DAC). 
The Pradhan Mantri Krishi Sinchayee Yojana or PMKSY will now cover almost 15 crore farmers of the country, which earlier catered to 12 crore farmers. 
About PMKSY:
The major objective of PMKSY is to achieve convergence of investments in irrigation at the field level, expand cultivable area under assured irrigation, improve on-farm water use efficiency to reduce wastage of water, enhance the adoption of precision-irrigation and other water saving technologies (More crop per drop), enhance recharge of aquifers and introduce sustainable water conservation practices by exploring the feasibility of reusing treated municipal waste water for peri-urban agriculture and attract greater private investment in precision irrigation system.
The programme is supervised and monitored by an Inter-Ministerial National Steering Committee (NSC) constituted under the Chairmanship of Prime Minister with Union Ministers from concerned Ministries.