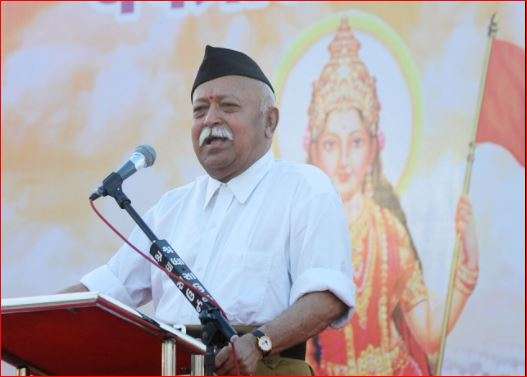 The RSS, which began operating from Cannanore in 1928 to make inroads into what is today known as Kannur, a Communist bastion, has lost as many as 86 of its workers in as many years in the district infamous for political killings, say RSS workers.
Most of those killed, in the last 50 years, are from the backward classes -- comprising labourers, fishermen, beedi workers and carpenters, according to a list prepared by RSS and Sangh Parivar units operating in Kannur. The backward classes are being actively wooed by the BJP.
However, the RSS' claim was strongly contested by the CPI-M which accused the saffron organisation of injecting intolerance among its workers and claimed at least 213 of its workers were killed by them in Kerala.
According to the RSS, the first political murder took place in 1969 of RSS worker Vadikkal Ramakrisnan in Thalassery taluk.
"Before this incident, the CPI-M workers used to threaten RSS workers and prevent them for doing their organisational work, but their attacks turned deadly from 1969 when they killed Ramakrishnan brutally," C. Chandrashekar, the RSS head in Kannur, told IANS.
Interestingly, Chandrashekar recalled that the RSS began working in Pinarayi, the village in Kannur from where Chief Minister Pinarayi Vijayan hails.
He said that despite every attempt to "terrorise" them, the victims' families were not ready to back down and "want to fight them democratically".
Narayani, a 60-year-old lady in Pinarayi area of Thalassery, vowed to fight for justice for her murdered husband and son despite threats from local CPI-M cadres.
Her house is adjacent to the Chief Minister's house and her son Remid was killed in broad daylight in 2016 in front of her. Her husband, who was a bus driver, was allegedly killed in 2002 by CPI-M workers.
"I could not get justice for the murder of my husband Utthaman but I am ready to go to any extent to get justice for my son," said Narayani, getting emotional while speaking to a group of journalists from Delhi who were here on the invitation of the Good Governance Cell of the Bharatiya Janata Party (BJP).
Vismaya, a 13-year-old student of Class 9 in the Andloor area of Thalassery, wants to become an IPS officer as she wants to end the violence in the area.
Vismaya' father Santosh, a tile worker, who was the BJP's booth president in Pinarayi Vijayan's assembly constituency, was allegedly killed by CPI-M workers two years back because he fought the local body election and got around 70 votes.
While Vismaya stays with her mother, her brother Sarang is studying in Delhi's Shyamlal College. RSS has taken on the responsibility of their studies.
Abhilash, BJP's Panchayat President in Thalassery, claims the CPI-M is "worried because the new generation is aligning with us".
RSS Kerala unit Chief P. Gopalan Kutty Master told IANS that the organisation takes care of the families of the victims and provies them all kind of support they needed including monetary help.
"This needs to be done by us as they sacrificed their life for a social cause. Our workers remain in touch with the families of martyrs and provide all help and support. If we won't do this the morale of our cadres will be down," Master said.
He said that RSS workers are not only victims of CPI-M's atrocities but also of the Congress, the CPI and the IUML.
"As Congress embraces the Left in Delhi, their workers rarely oppose them. Only RSS and BJP workers counter them and sometimes retaliate, so they target us. As our base is growing in their party villages too, they don't hesitate to take extreme steps to stop us," Master said.
CPI-M's Kannur District Secretary P. Jayarajan refuted the claims of the RSS and instead blamed them for the political violence in the state.
"Why only Kannur? They have killed 213 of our workers in the last 45 years in the whole state. Many victims of their atrocities were left handicapped," Jayarajan told IANS.
He said that violence cannot be stopped here until the funding of RSS from the top is stopped and they stop the philosophy of intolerance.
"Apart from funding and adopting philosophy of intolerance they should also stop arms training. Then peace can prevail," he said.
Kannur, which gave the country leaders like A.K. Gopalan, Azhikodan Raghavan, E.K. Nayanar, K. Karunakaran, has been infamous for the political killing in recent times.
The worst incidents of political violence in Kannur has been witnessed in the Thalassery, Payyanur, Kuthuparamba and Mattanur areas and has drawn national attention.
Kannur came into limelight politically in the 1920s when the fourth Kerala Political Conference was held at Payyanur under the Congress, which was presided over by Jawaharlal Nehru. The conference adopted a resolution requesting the Indian National Congress to adopt "complete independence" instead of Swaraj as its goal for the next annual session scheduled to take place in Calcutta.
Earlier, Mahatma Gandhi and Maulana Shaukat Ali had toured the district to carry the message of the Non-Cooperation and Khilafat movements in 1921.
A branch of the All India Home Rule League, founded by Annie Beasant, also functioned in Thalassery during 1908 and V.K. Krishna Menon was among its active members.