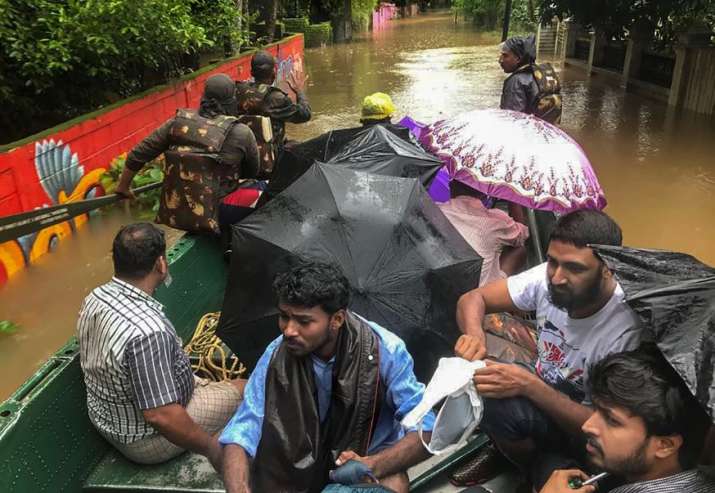 As the flood water recedes, security forces deployed in relief work in Kerala face a more daunting task of post-disaster rescue and sanitisation operations 
In Kerala's Thrissur district, the Border Security Force (BSF) has formed a team of 40 personnel for the task. The BSF's 162nd battalion, which has been stationed in the centrally-located district of the state since the disaster struck, has since rescued at least 500 people. Now, as  the water recedes, the responsibility of the battalion has shifted to clearing debris and bodies. 
A special team of 40 personnel have been sent to multiple locations in the district so that they can help the local administration in launching operations to clear submerged areas, remove debris and bodies in order to restore normalcy and help the residents in rehabilitation, a senior official told PTI today.
This team has been provided necessary equipment and vehicles to even reach the remote corners of the district under the directions of the local administration, he said.
More than 500 people have been rescued from various marooned areas of this district by the force till now, he said. 
Over 12,000 litres of drinking water has also been dispatched to the affected areas as the next phase of bringing back and putting together the lives of the displaced is a concern.
About 15 response teams of the border guarding force are also running shelters, food camps and medical assistance facilities or the affected people, he said.
The Kerala government has now turned its attention to cleaning of houses and public places which were damaged in the unprecedented rains that ravaged the state and with the operations to rescue stranded people from flood-affected areas nearing closure. According to the Disaster Management State Control Room, 231 people have lost their lives and 32 are missing in flood-related incidents since August 8.
Nearly 14.50 lakh people from 3.91 lakh families are still in about 3,879 relief camps across the state.
(With inputs from PTI)