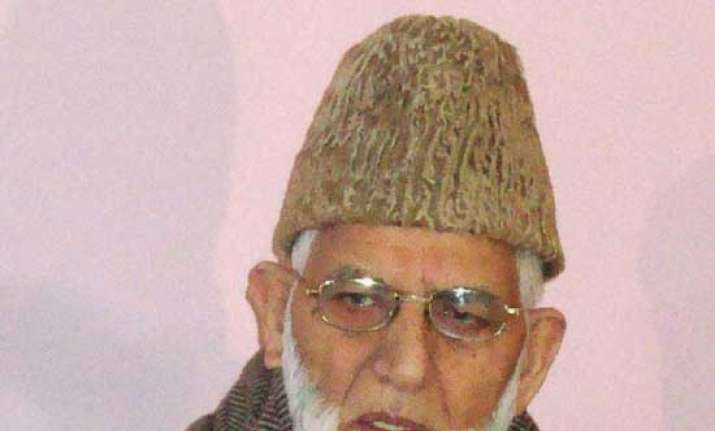 Reacting sharply to Pakistan's reported move to declare Gilgit-Baltistan as its fifth province, separatist leaders of Kashmir on Friday warned Islamabad against indulging in any "adventure of annexation".
In a joint statement, prominent separatist leaders including Syed Ali Geelani, Mirwaiz Umar Farooq and Mohammad Yasin Malik made it clear that any such move will not be acceptable to them.
"Unless and until the people of Jammu and Kashmir are provided an opportunity to decide the future course of the state through referendum, no division, alteration and changes are acceptable," the joint statement said.
The separatist leaders further said that neither India nor Pakistan had any right to alter the geographical status of the state.
Advising Pakistan to show "wisdom" and "desist" from taking any step that could hamper the political and geographical position of J&K, the separatist leaders hoped that Prime Minister Nawaz Sharif will fulfil his commitment regarding the  geographical entity of Jammu and Kashmir.
"Kashmir, Ladakh, Jammu, Azad Kashmir and Gilgit-Baltistan are a single entity," they added.
India on Thursday made it clear that Islamabad's reported attempts to declare Gilgit-Baltistan as the fifth province of Pakistan is "illegal" and completely unacceptable.
Reacting to Pakistan's move, Ministry of External Affairs (MEA) spokesperson Gopal Baglay reiterated that the entire Jammu and Kashmir will always remain an integral part of India.
"The entire State of Jammu and Kashmir acceded to India in 1947. It has been, is and will always be an integral part of India. A part of Jammu and Kashmir has been under illegal occupation of Pakistan. Any unilateral step by Pakistan to alter the status of that part will have no basis in law and will be completely unacceptable," Gopal Baglay told media persons.