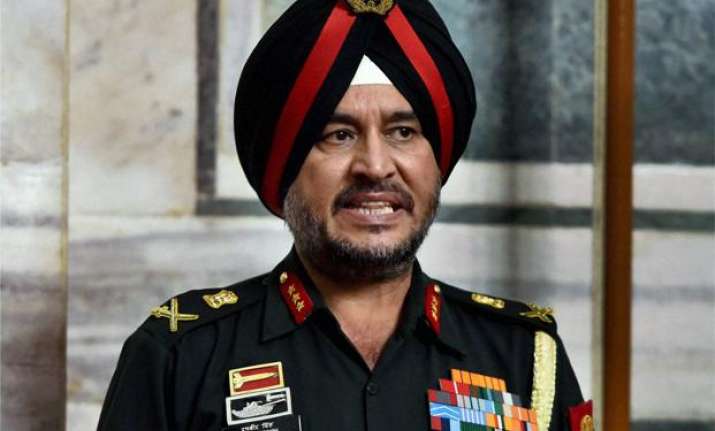 General Officer Commanding-in-Chief (GOC) Northern Command, Lt Gen Ranbir Singh on Thursday said that the Indian Army is ready for any contingency.
On 19th anniversary of Kargil Vijay Diwas, Lt Gen Ranbir Singh said, "Indian Army is ready for any contingency. Any kind of movement, misadventure which our adversaries try to undertake, they'll be given a befitting reply."
Expressing his gratefulness to the soldiers who fought for the nation, Lt Gen Ranbir Singh: "We applaud the magnificent efforts of all those gallant sons of the soil. We go ahead with gratitude for all those martyrs who sacrificed their lives in the service of the nation."
He further said, "On a number of occasions there have been reports that People's liberation Army of China carried out misbehaviors in various areas along the Actual Line of Control but such disobediences took place in areas where we have different perception of the Actual Line of Control."
He highlighted that India and China have well-established mechanisms especially at the highest level where special representatives from both the countries discuss issues related to the resolution of the boundary dispute.
In the last 19 years, as far as the modernisation of the armed forces is concerned, it is going on in a big way, he said. "We have been able to identify certain areas where we required additional focus -- whether it in the form of infrastructure development close to the LoC or even on the LAC or improvement of night vision capability, surveillance capability, night fighting capability. There is a substantial improvement that has taken place in so far as ops preparedness of the armed forces is concerned,"
On Pakistan, Lt Gen Ranbir Singh said: "As far as the internal situation in Pakistan is concerned, I think we will leave it to Pakistan authority and population to see how to handle the challenges inside their country. It hasn't affected our preparations."
Talking about the infrastructure, the GOC explained that "We are trying to connect all our forward posts with roads; we are also trying to make helipads in all the upcoming posts to bring back troops in case of any untoward situations. Soldiers can use ISAT telephones, DSPT, government lines etc wherever there is no mobile network," explained Singh.
Speaking on the situation in Kashmir, he said, "The situation in Kashmir is stable. However, it is fragile. The violence parameters which we have seen in 2018 are relatively better as compared to 2017 and earlier years. The stone-pelting activities are relatively less this year. That shows an understanding and comprehension in the minds of the local youth that it is futile to come out and carry out stone pelting on government agencies and security forces".
They need to understand that it is the dividend of peace that needs to be exploited, he added expressing confidence that things were moving in that direction.
Lt Gen Singh also assured that the Army conducts operations in a professional manner while ensuring minimum collateral damage.
He further said that all the martyrs and war veterans have received their monuments, incentives as promised to them.
With inputs from PTI and ANI