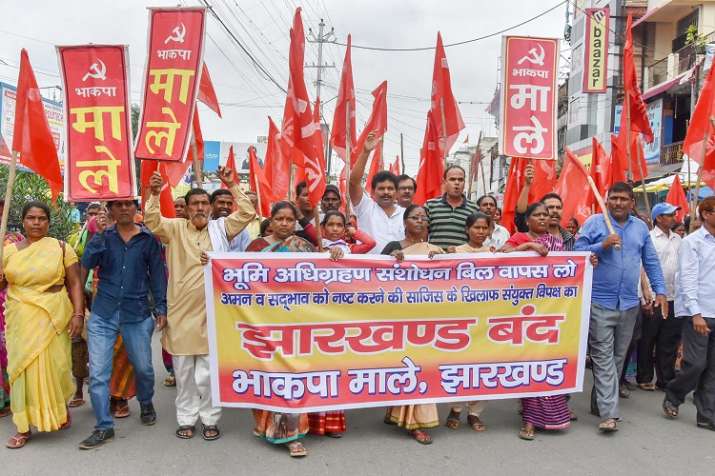 The Jharkhand Mukti Morcha (JMM) and the opposition has called for a state-wide shutdown in Jharkhand on Thursday, as they protest an amendment to the Land Acquisition Act, 2013, that authorises direct purchases. The bandh is supported by Congress, RJD and JVM (Prajatantrik) of former chief minister Babulal Marandi among others.
Over 1000 people have been arrested in different parts of the state as supporters of the opposition parties tried to enforce shutdown against the legal provision, that allows the government to acquire land directly from owners.
Jharkhand government has warned of strict action against those involved in violence. Close monitoring is being done and CCTV cameras have been installed to take note of and prevent any incidents of violence.
Two companies of the Rapid Action Force, six companies of the Reserve Armed Police and 3,100 home guards have been deployed to tackle the situation arising from the protests. Around 5000 personnel of the state have also been deployed to control the violence amid protests against the changes made in the Land Acquisition Amendment Act 2013.
Schools and most shops have been closed, buses on long-distance routes are not plying. Train services have also been affected in Sahebganj district of the state.
The home secretary said that any incidents of violence would amount to contempt of court. "Anyone found damaging public or private property will be dealt with as per law. They will have to pay for the losses incurred," the home secretary added.
The secretary also said that the forceful imposition of bandh is unconstitutional as per the earlier directive of the Jharkhand High Court. The damages emerging out of violence would be realised from those indulging in such acts, he said.
The Jharkhand Assembly had passed the amendment bill by a voice vote in August 2017, while the President cleared it in June.
The state government has maintained that the amendment was necessary as people-oriented projects were getting delayed by the earlier provisions, that had capped the direct purchase of land.