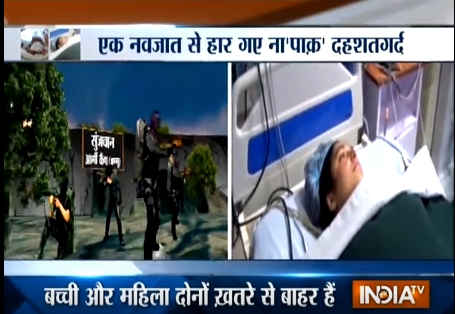 A woman who came under attack of bullets fired by the terrorists in Sunjuwan Army camp in Jammu and Kashmir, has given birth to a baby girl.
The woman tried to protect herself and take shelter during the attack, but became a victim to the shots fired by the terrorists.
Lying unconscious and in pain on the ground, the lady was immediately rushed to Army hospital by the locals who helped her out.
The doctors treated the woman and managed to save both the lives.
According to doctors, both mother and the new-born are in good health. The child weighs 2.5 kg, the doctors said.
Chief Minister Mehbooba Mufti also met the injured woman and took stock of her health.
Also read: JeM terrorist attack: Peshawar like massacre averted; 5 soldiers martyred, 1 civilian killed; Army guns down fourth terrorist
The operation to flush out JeM terrorists who stormed an Army camp in Sunjwan entered the second day today. 
A group of heavily armed Jaish-e-Mohammad terrorists struck the sprawling camp of the 36 brigade of Jammu and Kashmir Light Infantry in the early hours yesterday, triggering a gunbattle which claimed lives of five soldiers and one civilian, injuring 11 others.
Taking the terrorists head on, the Indian Army gunned down four Jaish-e-Mohammad cadres.
WATCH FULL VIDEO: