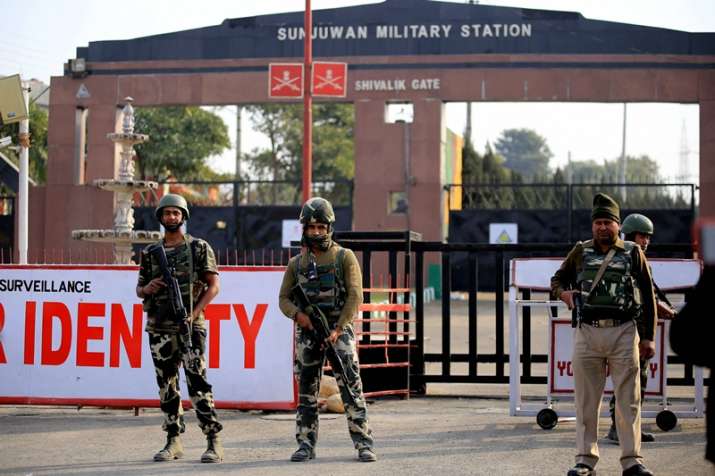 Security forces on Sunday gunned down one more militant who was holed-up inside an army camp here after a group of terrorists attacked the military station, killing five soldiers and a civilian on Saturday.
With this, the number of militants killed in the attack has risen to four, defence officials said. At least 10 persons, including soldiers, women and children, were injured.
The five martyred Army personnel and one civilian were identified as:
Sub. Madan Lal Choudhary (1st Jammu and Kashmir Light Infantry, JAK LI), Sub. Mohd Ashraf Mir (1st JAK LI), Hav. Habib-Ullah Qurashi (1st JAK LI), NK Manzoor Ahmed (1st JAK LI), L/NK Mohd Iqbal (1st JAK LI), and father of L/NK Mohd Iqbal (civilian).
The operation concluded after the death of the fourth militant. Searches are now going on to sanitise the camp.
A group of heavily armed Jaish-e-Muhammad militants entered the Sunjuwan army base station around 4.45 a.m. on Saturday.
The militants managed to enter the Junior Commissioned Officers (JCOs) quarters inside the camp while everyone was asleep.
Also read | Jammu terrorist attack: JeM had planned Peshawar-like school massacre
Para commandos from the Army's Udhampur-headquartered Northern Command were airlifted to flush out the militants. The Air Force provided aerial surveillance.
Indian Army chief Bipin Rawat arrived here on Sunday to review the operation that lasted for nearly 30 hours. 
As it happened:
07:44 pm: 
#SunjwanArmyCamp attack: Arms & ammunition among other paraphernalia recovered in today's operation pic.twitter.com/akZkuiKM5I

— ANI (@ANI) February 11, 2018
04:55 pm: Four fire tenders rushed to Sunjwan Army Camp as a precautionary measure.
03:59 pm: 10 people have been injured, of which 6 are women & children including 1 pregnant lady. Army doctors worked through the night to save life of the pregnant lady & through a c-section she delivered a baby girl. Both mother and baby are stable: Col. D Anand
02:23 pm: National Investigation Agency team reaches  Sunjwan Army Camp at Jammu
01:37 pm: Fifth terrorist gunned down.
01:00 pm: J&K Governor NN Vohra met Home Minister Rajnath Singh at his residence in Delhi over the security situation in Jammu & Kashmir
12:50 pm: Entire civilised world is engaged in war with terrorists. When we fight it, sometimes we have to face such unfortunate incidents. But we'll continue to fight against it in J&K & neutralise all terrorists: Ram Madhav, BJP National General Secretary
12:29 pm: The nation should stand united behind our security forces, they should be encouraged. Unfortunate that Congress leaders associate this kind of tragedy with politics: Piyush Goyal
11:55 am: I strongly condemn the terror attack on our Army camp in Jammu in which 6 Indians have been martyred. All Indians, across political lines, stand united with our Army men and women. My prayers and thoughts are with the families of those killed and injured: Rahul Gandhi
11:53 am: Operation is still underway. I think it is not right to comment on it while the operation is on. I am sure that our jawans, who are in the operation, will successfully conclude it: Home Minister Rajnath Singh
11:10 am: 5 Army soldiers martyred, one civilian killed and 11 others injured in JeM terrorist attack on army camp in Jammu so far. Army guns down the fourth terrorist, ops continue.
11:00 am: 
3 terrorists have been killed. Army has taken all precautions because every human life is precious and Army does not want a collateral damage. I'm sure we will be able to finish the operation soon: SD Singh Jamwal, IGP Jammu #SunjwanArmyCamp pic.twitter.com/a678yGwq5k

— ANI (@ANI) February 11, 2018
10:44 am: Two Junior commissioned officers and one Non-commissioned officer of the Army have lost their lives in the terror attack. 3 terrorists killed in the operation. Operation underway
10:40 am: Army Chief General Bipin Rawat visited Jammu, met senior commanders to take cognizance of the situation 
10:30 am: Sources - Terrorists had plans to repeat a Peshawar like situation inside the Sunjuwan military station as they wanted to create a mayhem in the School inside the army camp where the children or army officers and Jawans are studying. It's a KV school inside the station.
10:20 am: Body of the third terrorist recovered. 
10:15 am: Hizbul Mujahideen and Jaish-e-Mohammad have allied together. Syed Salahuddin and Masood Azhar met in Neelum Valley on January 31 to plan fidayeen attacks in J&K.
Here is what we know about the attack so far
#The terrorists belong to Jaish-e- Mohammad (JeM) group led by Maulana Masood Azhar. 
#The JeM terrorists were planning to target the Army school and recreate the heinous scene of 2014 Peshawar school massacre. 
#The plan for the attack was hatched during a meeting between Masood Azhar and Sallauddin in Pakistan's Muzzafarabad recently, intelligence sources said. 
#Intelligence inputs had warned of an attack on an Army or security establishment by Jaish-e-Mohammed in view of the death anniversary of Afzal Guru who was hanged on February 9, 2013. 
#The terrorists struck before dawn and managed to sneak into the camp from the rear side of the base after a brief exchange of fire with the sentry on its periphery. 
#Army officials said a Major, who was injured, was airlifted to an Udhampur hospital where his condition was stated to be critical. 
#Army chief Bipin Rawat has reached Jammu and is taking cognizance of the situation, while Home Minister Rajnath Singh has assured the local government that Indian defence forces will handle the situation. 
#A high-alert has been sounded in Jammu. Heavy security has been deployed across the region.
#Contingents of para-military CRPF and police personnel have been posted outside the boundary wall and were keeping curious onlookers at bay to avoid civilian casualties. 
#Schools in a five-kilometre radius around the camp have been closed by the authorities as a precautionary measure.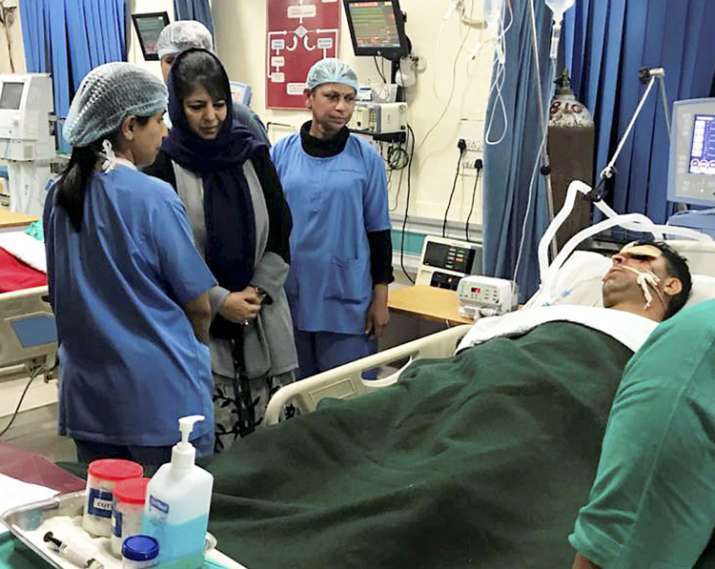 #Meanwhile, Jammu and Kashmir Chief Minister Mehbooba Mufti visited Jammu Army hospital to visit those injured in the terrorist attack. CM Mufti also held a high-level meeting on the issue. 
#In a miracle midst of crisis, a woman injured by terrorist's bullet gave birth, both mother and child are safe now. Read full story here.
#The last terror attack in the Jammu region had taken place on November 29, 2016, when terrorists stormed the Army's Nagrota camp on the outskirts of Jammu city, killing seven Army personnel including two officers. Three terrorists were also gunned down. 
#Army helicopters and drones have been pressed to service recce the area, officials said.
#Those injured included a Major, Havaldar Abdul Hamid, Lance Naik Bahadur Singh and the daughter of slain Subedar Chowdhary, Parliamentary Affairs Minister Abdul Rehman Veeri had earlier told the Assembly which witnessed protests by BJP members who raised anti-Pakistan slogans.
(With inputs from agencies)