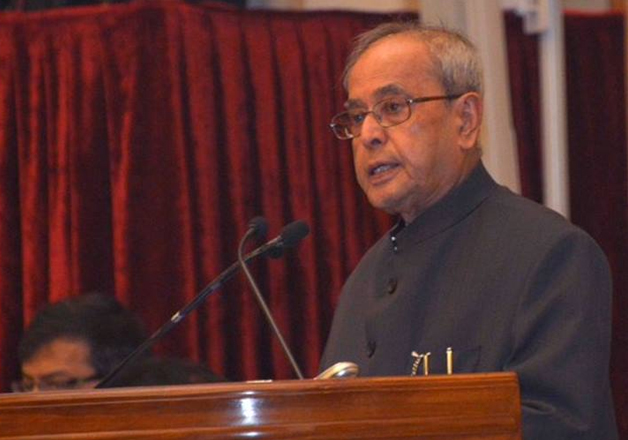 President Pranab Mukherjee today said that India is firmly committed to peace but is always prepared to deploy its military might to protect the sovereignty of the nation. 
"India's increasing eminence in the comity of nations also draws its strength from the ever increasing capabilities of our armed forces. Though we remain firmly committed to peace, we will use all our might to protect the sovereignty of our nation, and I am confident that our valiant men and women in uniform will rise to the occasion to meet the challenges triumphantly," he said. 
The President said the country's armed forces, exemplified by the air warriors, epitomise "grit and determination" in fulfilling their responsibilities by upholding the highest standards of service ethos. 
He praised the Indian Air Force for being at the "cutting edge" of county's military might and for being at the forefront of disaster relief and humanitarian aid operations. 
Mukherjee, the supreme commander of the armed forces, presented the President's Standards to the 501 Signals Unit, based in Barnala, and 30 Squadron, raised in Tezpur, Assam, at the Indian Air Force base here. 
The 30 Squadron operates the combat superior Sukhoi-30MKI fighter aircraft to secure Indian skies in times of peace and war. The President's Standards are given to armed forces units which render exceptional and dedicated service over a period of time. 
The 30 Squadron of the IAF was raised on November 1, 1969 and at present the unit is located at Pune under the control of South Western Air Command. 
The 501 Signals Unit has been entrusted with the responsibility of defending the Punjab Sector against the western adversary. 
The unit is located at Barnala in Punjab under the functional control of HQ Western Air Command. The unit commenced operations right from its inception in 1966. 
In the 1971 Indo-Pak War, the unit proved its mettle by providing uninterrupted surveillance and tactical control over air defence weapons in the Punjab sector. 
The President asked both the IAF units decorated today to "uphold their rich traditions" and operate as a formidable fighting force in the years to come. 
A display by the famed helicopter-borne 'Surya Kiran' acrobatics team and other drills by IAF soldiers was conducted during the event. 
Haryana Governor Kaptan Singh Sonaki, Chief Minister Manohar Lal Khattar, Health Minister Anil Vij, Air Chief Marshal Arup Raha and Air Marshal SB Deo were among those present on the occasion. 
With PTI Inputs