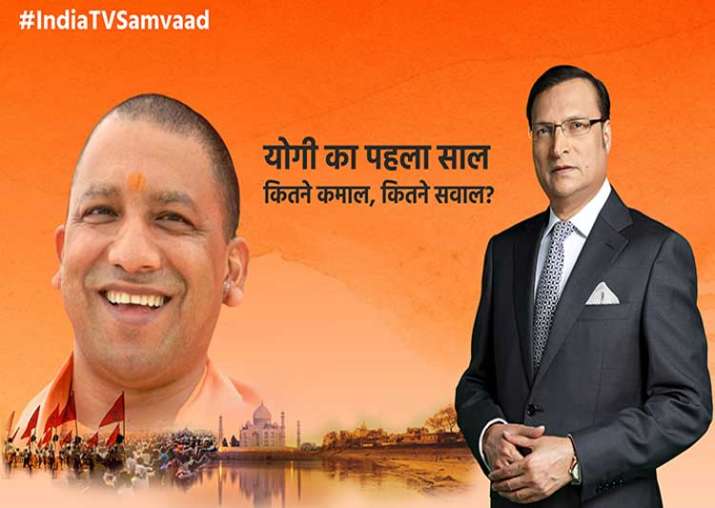 The Yogi Adityanath government of Uttar Pradesh will be completing one year on March 19, 2018.
During the day-long India TV's mega conclave, eminent guests, ministers and opposition leaders will discuss the achievements and failures of the BJP-led NDA government in India's most populous state on March 13.
The conclave will be held in Lucknow and is all set to be attended by representatives of all important political parties of the state.
The brainstorming conclave will be attended by Chief Minister Yogi Adityanath, former Chief Minister Akhilesh Yadav, deputy chief ministers Keshav Prasad Maurya and Dinesh Sharma, UP ministers Rita Bahuguna Joshi, Swami Prasad Maurya and Shrikant Sharma, Rajya Sabha member Amar Singh, UP BJP chief Mahendra nath Pandey, Congress leaders Akhilesh Pratap Singh, Jitin Prasad, Nadeem Javed and Aditi Singh (Rae Bareli MLA), Mahant Dharmdas of Nirmohi Akhara, former Rajya Sabha MP and general secretary of Jamiat Ulama-i-Hind Moulana Mehmood Madani, Chairman of Shia Central Waqf Board Syed Wasim Rizvi, Mulayam Singh Yadav's younger daughter-in-law Aparna Yadav, BJP's national  spokespersons Sambit Patra,  GVL Narasimha Rao and AIMIM chief Asaduddin Owaisi. 
The day-long conclave will discuss a wide range of issues including achievements of Yogi Adityanath government in last one year, prospects of ruling  BJP and other political parties  in 2019 general elections, solution to the vexed Ram Janmabhoomi-Babri Masjid dispute, the controversy over police encounters in the state etc.
If political observers are to be believed, last one year has been a mixed bag for the Yogi Adityanath government. On one hand, the Yogi government has been praised for steps like facilitating the payment of dues of sugarcane farmers in the state to a large extent, formation of anti-Romeo squads to check incidents of eve-teasing against girls, instilling a sense of fear among criminals operating in the state etc., the state government has faced criticism for allegedly encouraging fake police encounters and vitiating the atmosphere in the state by allegedly turning a blind eye to incidents like  Kasganj violence. 
On 16th February  2018, Yogi Adityanath government presented its second full-fledged budget announcing new schemes worth Rs 14,341 crore. However, the opposition accused the government of once again shying away from its promise of providing free laptops and data package to college-going students that the BJP had made in its Sankalp Patra in the run up to the 2017 Assembly elections.
However, the UP chief minister rejected the criticism saying instead of distributing free laptops, the government will rather focus on better education through a changed syllabus.
The opposition also attacked the government for not fulfilling the promise of generating 14 lakh jobs every year.
All these issues are likely to be discussed threadbare in the India TV Samvaad Uttar Pradesh in Lucknow on March 13.
Keep Watching this space for regular updates on India TV Samvaad Uttar Pradesh
Watch Video: India TV Samvaad on one year of Yogi government