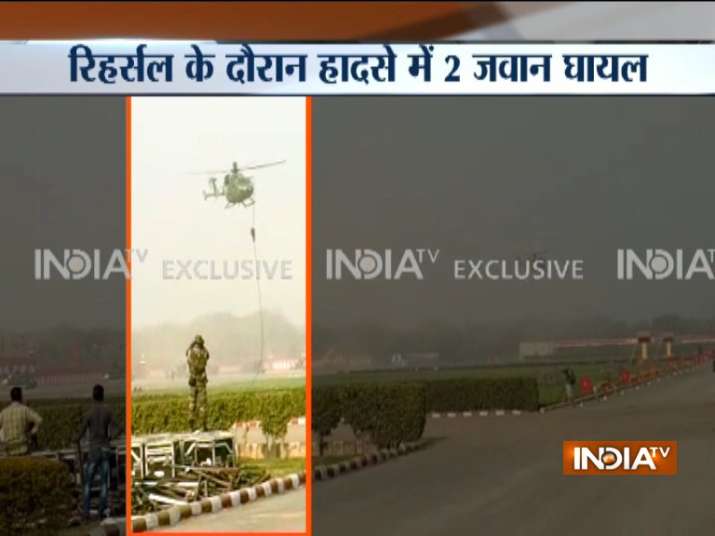 While rehearsing for Army Day parade at Delhi Cantonment playground, three jawans were injured during slithering operation following which an inquiry has been ordered.
In an exclusive footage accessed by India TV, eight commandos can be seen participating in slithering operation from advanced light helicopter 'Dhruv'. While out of the eight jawans, two suffered injuries after they fell down from the rope that was being used for the exercise. The injured jawans were immediately rushed to hospital.
Though, the actual cause behind the incident is not clear yet but as per an Army official the incident happened due to boom malfunction and not due to rope that was used for operation. Meanwhile, an inquiry has been ordered in the case. 
Slithering is an exercise where troops are dropped from a helicopter in an area of operation using a rope attached to the chopper. 
Following the incident, the Army has suspended slithering operations involving ALH Dhruv till a probe is completed, the sources said. 
"Material failure" appears to be the reason behind the incident, in which three personnel were injured, official sources said. ALH Dhruv is an indigenously developed helicopter manufactured by Hindustan Aeronautics Limited (HAL).
The Army Day is celebrated each year on January 15 in recognition of Lieutenant General KM Cariappa's taking over as first Commander-in-Chief of the Indian Army from the last British Commander-in-Chief of India.
WATCH FULL VIDEO HERE: