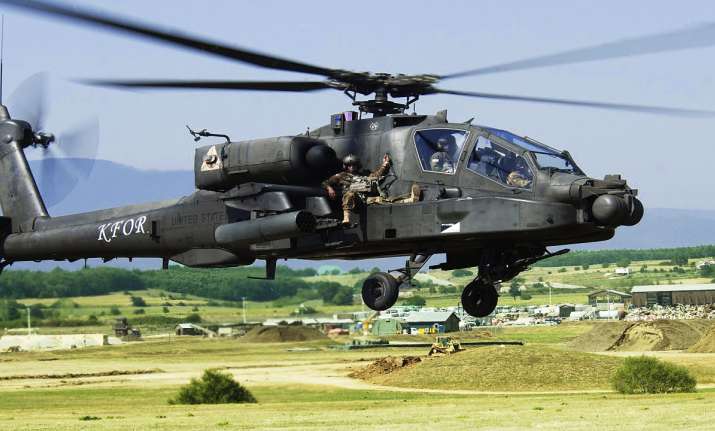 The deck has been cleared for India to purchase six Apache AH-64E choppers from the United States. The United States government on Tuesday approved a deal to sell the Indian military six Apache attack helicopters for USD 930 million or roughly Rs 62 billion. The agreement has been passed to the US Congress for approval, but if no US lawmaker raises an objection the contract is expected to go ahead.
The lead contractors are US arms, aviation and engineering giants Lockheed Martin, General Electric and Raytheon. 
The production of Apache fuselages by Tata and Boeing is already underway in India, today's approval concerns a direct sale of finished products from US manufacturers. 
"This support for the AH-64E will provide an increase in India's defensive capability to counter ground-armoured threats and modernise its armed forces," the US Defence Security Cooperation Agency said, in a statement. 
"India will have no difficulty absorbing the helicopters and support equipment into its armed forces. The proposed sale of this equipment and support will not alter the basic military balance in the region."
India requested a range of equipment including 14 General Electric engines, four AN/APG-78 fire control radars and other radar equipment, seven of the Apache's Modernized Target Acquisition Designation Sight/Pilot Night Vision Sensor systems and 14 Embedded GPS Inertial Navigation Systems,
The proposed sale also includes 180 AGM-114 L-3 Hellfire Longbow air-to-surface anti-armor missiles; 90 AGM-114 R-3 Hellfire II air-to-surface missiles; 200 Stinger air-to-air missiles; rockets; 30 mm cannons and ammunition.
It also includes simulators, communication equipment, spare and repair parts, training, engineering and other support.
(With inputs from agencies)