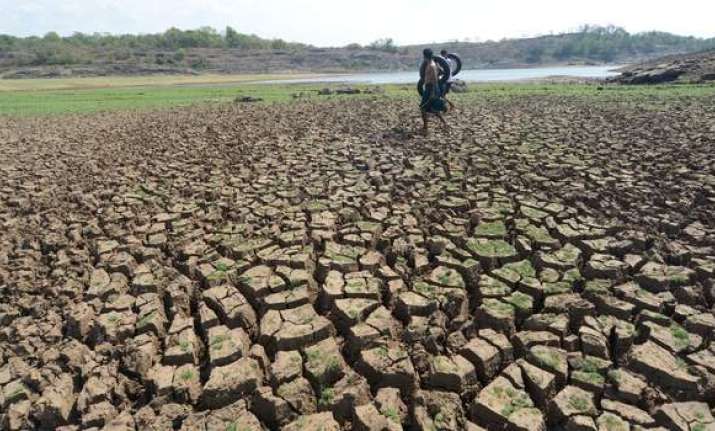 India is suffering from the worst water crisis in its history and millions of lives and livelihoods are under threat, according to a report published by NITI Aayog in June this year. The report - Composite Water Management Index - says that 600 million Indians are facing high to extreme water stress. 
The report further says that about two lakh people die every year due to inadequate access to safe water across the country. 
The NITI Aayog report warns that the water crisis is only going to get worse in the coming days. By 2030, the country's water demand is projected to be twice the available supply, implying severe water scarcity for hundreds of millions of people and an eventual 6 per cent loss in the country's Gross Domestic Product (GDP).
As per the report of National Commission for Integrated Water Resource Development of MoWR, the water requirement by 2050 in high use scenario is likely to be a milder 1,180 billion cubic metre (BCM), whereas the present-day availability is 695 BCM. The total availability of water possible in country is still lower than this projected demand, at 1,137 BCM. Thus, there is an imminent need to deepen our understanding of water resources and usage and put in place interventions that make our water use efficient and sustainable.
How states are managing their water resources
The NITI Aayog report also highlights how states are managing their water resources. Data for several indicators — covering groundwater restoration, irrigation management, on-farm water use, rural and urban drinking water supply, water policy frameworks, and other areas has been compiled to study and rank  states on the basis management of water resources.
The composite Water Index prepared on the basis of the data available painted a grim picture as most of the states scored poorly. The Water Index scores for FY 16-17 vary from 76 (Gujarat) to 26 (Meghalaya), with the median score being 49 for non-Himalayan states and 31 for North-Eastern and Himalayan states.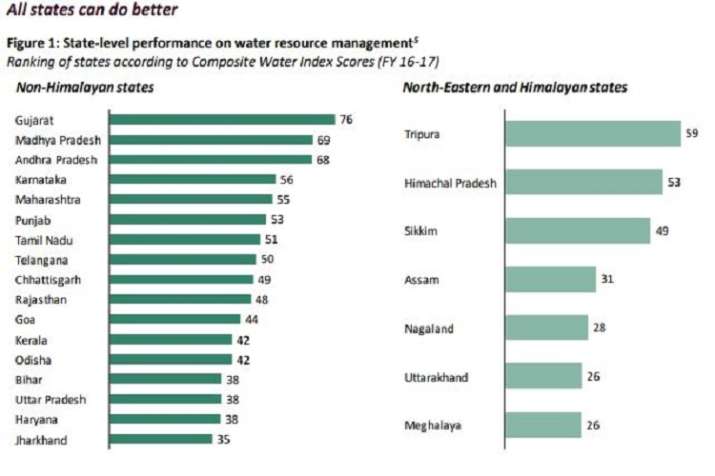 Nearly 60 per cent of states (14 out of 24) achieved scores below 50 and were classified as low performers as far as managing water resources was concerned. Most the low performer states were situated in the populous agricultural belts of North and East India and among the North-Eastern and Himalayan states. 
Scarcity driving positive action by states
Some of the states which have been facing water issues since decades have come forward to tackle the challenge by taking several water conservation measures.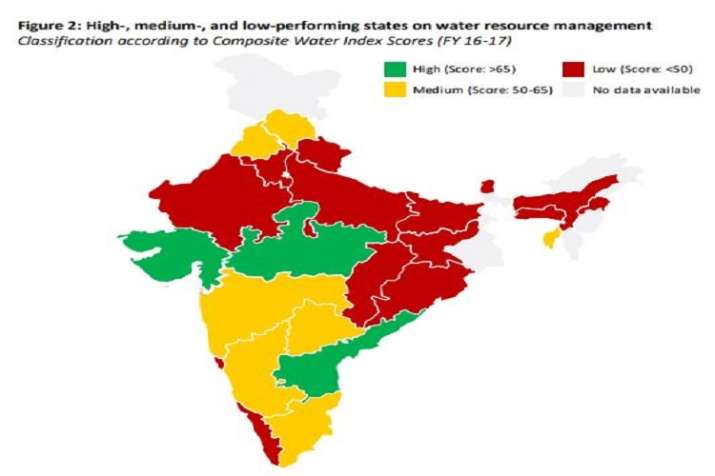 Several water-scarce states such as Gujarat, Madhya Pradesh, Andhra Pradesh, Karnataka, Maharashtra, Telangana have faced severe droughts in the past and they are now actively taking steps to improve the ground water table by restoring surface water bodies, the report pointed out. Data for states such as Jammu and Kashmir, West Bengal, Arunachal Pradesh, Manipur and Mizoram was not available.
Read NITI Aayog's full report here
'Scary scenario' 
States may have started to take steps to address the impeding crisis, but more is needed as the situation is rapidly running out of control.  Experts believe that immediate, concentrated efforts are needed if India has to survive the gigantic challenge. 
Eminent scientist K Kasturirangan said agriculture's share in India's total water usage needs to be brought down to below 50 per cent. He stressed that efforts are needed to preserve and manage even a single drop of water. 
Kasturirangan, former chairman of the Indian Space Research Organisation (ISRO), pointed out 'indiscriminate exploitation' of ground water must be controlled immediately.
There is "very, very large" depletion of ground water in northern parts of India, if American satellites have to be believed, Kasturirangan said. 
"You know what has happened to Punjab and many other states in the process...the economy simply collapsed, that portends the shape of things to come if we are not careful about how we are going to use ground water," he added.
"We have to work with concept that it's a scary situation, otherwise you will never be serious in this country. It's a scary situation created by us by our actions," Kasturirangan said when asked whether India is facing scary situation as far as water crisis is concerned.
(With inputs from agencies)