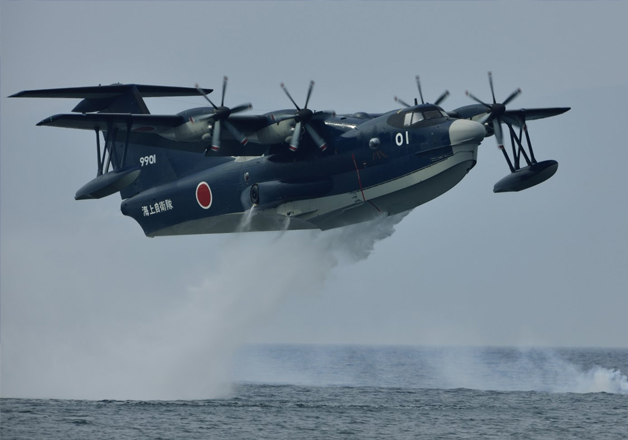 Talks with Japan on the purchase of long-pending amphibian plane US-2i is back on track after a gap of two years as Indian Prime Minister Narendra Modi leaves for two-day Tokyo visit on November 11.
According to a Times of India report, besides inking of a civil nuclear deal with Japan, India's intention to acquire a dozen US-2i aircraft will also get major highlight during India-Japan annual summit.
Reports suggest that Defence Minister Manohar Parrikar will on Monday chair a meeting of the Defence Acquisitions Council (DAC) to discuss issues related to the viability of acquiring the US-2i aircraft for the Indian Navy and Coast Guard.
"The DAC will take up the... inking of a bilateral MoU between the two countries for the procurement of the 12 aircraft," it quoted a source as saying.
The move comes as the India Navy plans to procure six such aircraft, under a government to government deal, between 2017 and 2022. Six are proposed to be bought in the next phase. 
The project has been in the works since 2011 but was delayed due to a high price tag. It got a renewed push following PM Modi's visit to Japan in 2014 and a return trip by Japanese PM Shinzo Abe here last December.
The TOI report mentioned that Japan has now agreed to reduce the price, which was earlier pegged at USD 1.6 billion (approx Rs 11,000) crore to clinch the deal and expand its strategic partnership with India.
The US-2i, powered by four big turbo-props, developed by ShinMaywa Industries, has a range of 4,700 km and can land in seas with waves of up to three metres. It has long-range civilian and military applications.
Meant for search and rescue operations, the US-2i can also rapidly transport 30 combat-ready soldiers to hot zones in an emergency.
The deal is also regarded as strategic because New Delhi is building ties with Tokyo as part of its Look East Policy meant to counter China's influence in the Indian Ocean and Pacific Ocean regions.
If the deal goes through, it would be the first major export of Japanese defence item after it lifted decades-long self-imposed embargo on export of weapons.