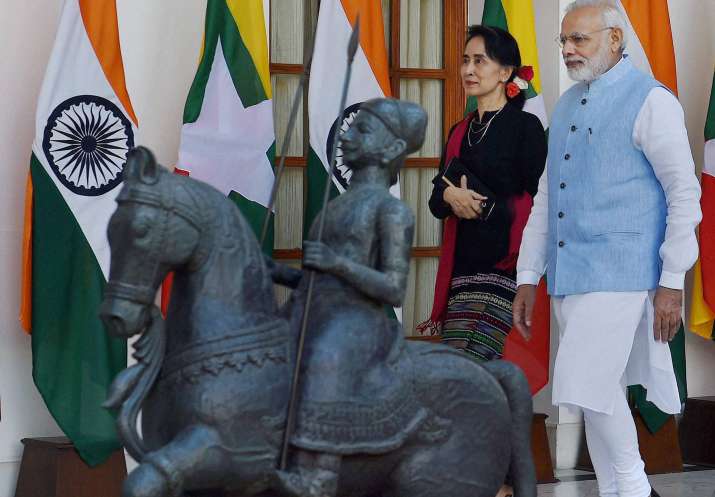 As Myanmar embarks on a journey of democracy and development, India today assured it of unstinted support as the two traditionally close neighbours agreed to enhance ties in a range of areas including security and trade during talks between Prime Minister Narendra Modi and Myanmar's top leader Aung Sung Suu Kyi.  
The two sides signed three agreements to boost cooperation in power, banking and insurance sectors besides deciding to step up ties in areas of oil and gas, agriculture, renewable energy and health care.  
Suu Kyi, who led her National League for Democracy to wrest power from the military junta in a historic election earlier this year, said the new government wants to significantly deepen engagement and expand existing cooperation with India, asserting that the intention is to "depend on each other".  
It is the first visit to India by Suu Kyi, who could not become Myanmar's President due to a constitutional provision but has full control over the government, holds the position of State Councillor and Foreign Minister. 
Welcoming Suu Kyi, the Prime Minister described India as her second home and assured that "India and its friendship will stand with you in full support and solidarity."  
"You are no stranger to the people of India. The sights, the sounds and vibrancy of Delhi are familiar to you. Welcome back, Excellency, to your second home!  
"Excellency, you are an iconic leader," he said in a media statement. Suu Kyi had done her graduation from Delhi University.  
In her comments, the Myanmerese leader invoked Mahatma Gandhi and Jawaharlal Nehru and said Myanmar drew huge inspiration from the two Indian leaders in its struggle for democracy. 
"In our struggle for democracy, we have been helped greatly by the thoughts of Mahatma Gandhi and Jawaharlal Nehru. The two great leaders of Indian Independence movement have inspired with their vision and with their belief," Suu Kyi said in her press statement in presence of Prime Minister Narendra Modi.  
The Prime Minister said as close and friendly neighbours, the security interests of India and Myanmar are closely aligned.  
The two countries agreed that close coordination to ensure security in the areas along border, and sensitivity to each other's strategic interests, will help both neighbours, he said.  
Myanmar, considered one of India's strategic neighbours, shares a 1,640-km-long border with a number of northeastern states including militancy-hit Nagaland and Manipur. 
Giving details of the talks, Modi said the two countries agreed to enhance engagement in several areas including agriculture, power, renewable energy and power sector.  
"Let me assure you, Excellency, that as you lead Myanmar to become a modern, secure, economically prosperous and better connected nation, India and its friendship will stand with you in full support and solidarity," Modi said. 
Effusive in his praise, Modi said, "Your clear vision, mature leadership, struggle and eventual success in establishing democracy in Myanmar has inspired people across the world.  
"It is indeed an honour for us to receive you in India. We are also grateful for your participation at the BIMSTEC and the BRICS-BIMSTEC outreach Summit in Goa a couple of days ago."  
Modi said Myanmar has commenced a "new journey" under Suu Kyi's able leadership and India will always extend full support to it. "It is a journey of hope and much promise." 
Talking about importance of connectivity, the Prime inister said Myanmar's new government was keen to connect more deeply with South Asia and South East Asia.  
Calling the talks "extensive and productive", Modi said India has a robust development cooperation programme with Myanmar and that India's nearly USD 1.75 billion of development assistance is being utilised in line with the priorites of Myanmarese government and its people.  
"From the mega connectivity projects like Kaladan and Trilateral Highway, to projects in the fields of human resource development, healthcare, training and capacity building, we are sharing our resources and expertise with Myanmar," he said.  
The Prime Minister said India will develop a Varietal Development and Seed Production Centre in Yezin in Myanmar to enhance the quality of seeds.  
"We will also work to develop a mutually beneficial arrangement for trade in pulses. We have offered to scale up the power supply from Moreh in Manipur to Tamu in Myanmar. We will also partner in a pilot LED electrification project at a site designated by the Government of Myanmar."  
He said the MOU on cooperation in the power sector will help create the framework for advancing linkages in the sector.  
The Prime Minister said India has also offered assistance in restoring pagodas damaged in the recent earthquake in Myanmar. Both the delegations had a working lunch.  
"The Archaeological Survey of India will also soon begin work on restoring two old temples and inscriptions of King Mindon and King Baygyidaw in Bodh Gaya," he said.  
Suu Kyi's visit here came nearly one-and-half months after Myanmerese President U Htin Kyaw visited India.  
Describing her visit here as "happy and extremely fulfilling", Suu Kyi said the visit has confirmed the "long-standing friendship and trust" that exist between the two countries.  
She said "very very" wide range of subjects were covered in her talks with Modi.  
"It is our intention to engage more closely together, to depend on each other," she said.  
Her comments were seen as allaying apprehension here that Myanmar was getting close to China which has been increasing its footprint in that country and making huge investments in several major projects there.  
"We as a nation struggling to make democratic culture take root in our country, we believe India will be able to help us. We are going to be cooperating in areas of construction, energy, culture and education," she said.  
Referring to her meeting with top business leaders, Suu Kyi said she urged them to invest in "trust" so that trade can flourish.  
"We have much to do. We are behind India in the field of development and in the field of politics. But we are confident that we will be able to make up for the lost time," she said.  
Observing that Myanmar was much ahead of many other countries in South Asia a few decades ago, she said, "Things change, life changes unexpectedly but with good friends and with commitment and endeavour on our side, we are confident of making up."  
Suu Kyi said her aim now was to bring peace and stability to Myanmar and to the region and beyond.  
"We have been trying to bring peace to our country for decades. We hope that time has come for us to be able to say we have made the breakthrough and we are now firmly set on the path to a union, that will be a union which will be just to people.  
"For this too we look up to India with its experience of federalism, to teach us how we bring all our people into the process and to be part of our search for peace, stability and enduring federalism," she said.  
Talking about India's spiritual resources, she said the country's pluralism and federal structure were inspiration to Myanmar.  
"We always admired India as the greatest democracy in the world and for being able to maintain the system despite many challenges that have raised their heads since Independence," she said.
(With PTI inputs)