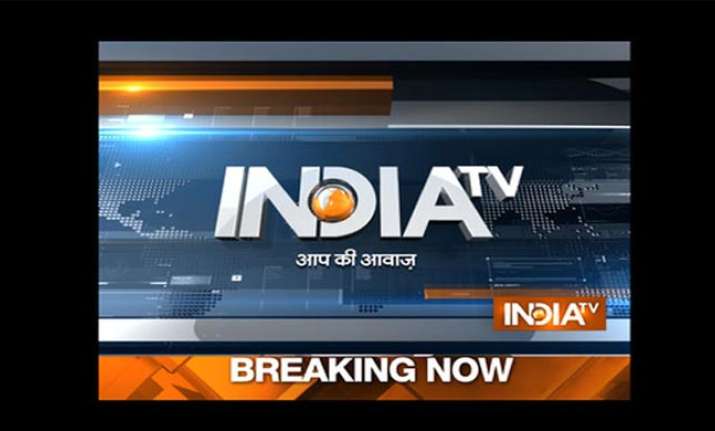 National News
"In major diplomatic offensive post Uri terror attack, India to isolate Pakistan at all forums, kill its propaganda"
In order to expose Pakistan internationally for its continued support to terrorism, India is all set to intensify its diplomatic efforts to kill Pakistani propaganda and isolate Islamabad at every level. The development follows a nod by Prime Minister Narendra Modi to this effect at a high-level meeting held today, sources said.
Uri terror attack: One more soldier succumbs to injuries, death toll rises to 18
One more soldier succumbed to injuries on Monday taking the death toll in the Uri army base terror attack to 18, the Army said today.
Bihar: 50-seater passenger bus falls into pond in Madhubani, all feared dead
All passengers on board a 50-seater bus were feared dead after it fell into a deep pond in Bihar's Madhubani district today, officials said.
Shivpal Yadav wields power; sacks 10 SP leaders, including 4 MLCs, from Akhilesh camp
Shivpal Yadav, who has reassumed his charge as Samajwadi party's state president, has suspended as many as 10 partymen for six years. These include 4 MLCs and other party leaders who are considered closed to UP CM Akhilesh Yadav.
Watch: Ink thrown at Delhi Deputy CM Manish Sisodia outside LG's office
Delhi's deputy chief minister Manish Sisodia, who returned from Finland after a terse letter by Lieutenant Governor Najeeb Jung asking him to cut short his educational tour and return to Delhi to deal with the health crisis, today had ink thrown on him outside the LG's office.
One killed as drunk student rams Porsche into 12 autorickshaws in Chennai
An autorickshaw driver was killed while some others received injuries when a speeding Porsche sports car rammed into a dozen auto-rickshaws at a posh locality here today. The car was being driven by a law student who was allegedly drunk.
International News
India diverting attention from Kashmir, charges against Pak baseless: Sartaz Aziz on Uri attack
Pakistan today accused India of misleading the world opinion to cover up its "reign of terror" in Kashmir by a spate of "vitriolic" and "unsubstantiated" statements following the terror attack in Uri that killed 17 soldiers.
Vladimir Putin's Party wins majority in Russian Parliamentary elections
Russian President Vladimir Putin's political party, United Russia, has cruised to an easy victory in the country's parliamentary elections.
Post Uri attack, cornered Pakistan to target India at UNGA on Kashmir
With Kashmir high on his agenda, Pakistan Prime Minister Nawaz Sharif arrived in New York on Sunday where he is scheduled to address the United Nations general assembly meet on Wednesday.
Business News
Vijay Mallya flew out of India like a bird, 'Kingfisher' apt name for company: HC
The Bombay High Court today likened the beleaguered businessman Vijay Mallya with the bird 'Kingfisher', the namesake of his company, saying Mallya aptly named his company 'Kingfisher', as like the bird, he too flew away without bothering about boundaries.
EPIC 919 mega sale: LeEco gives huge discounts and offers on smartphones and TVs
Chinese mobile phone maker LeEco is expecting to rake in Rs 100 crore in sales from its one-day mega sale event 'EPIC 919' today.
Over 2 crore calls failing everyday between us and Airtel : Reliance Jio
Reliance Jio has welcomed Bharti Airtel's decision to provide better interconnection for its calls but also said that it has not yet solved the issue of large-scale call drops as number of such points proposed by Airtel remained substantially less than actual requirement.
Entertainment News
Aamir Khan gives the 'best' gift to Shabana Azmi on her 66th birthday
Veteran actress Shabana Azmi recently celebrated her 66th birthday.While the actress was poured in by wishes from several B-town celebs, it was superstar Aamir Khan who went on to give Shabana the best gift on her birthday.
Video: Salman Khan copies Shah Rukh Khan, wears 'lungi' for Dixcy Scott!
Frenemies superstar Salman Khan and Shah Rukh Khan have been ruling millions of hearts with their appealing and unique styles. However, this time the 'Sultan' actor is playing a copycat by wearing King Khan's iconic lungi for a advertisement shoot.
'Pink' is beyond box office collections for me, says Shoojit Sircar
Ace filmmaker Shoojit Sircar's recent production 'Pink' I winning a lot of appreciation from the audience.
Sports News
Watch! Nine years since Yuvraj Singh's historic six sixes in an over in World T20 on this day in 2007
Indian batsman Yuvraj Singh has many achievements to his credit, but the World Cup hero will be best remembered every year on this day for his remarkable feat of hitting six sixes in an over during the India-England clash during the World T20.
'Have no interest in ICC, happy here with BCCI: Anurag Thakur
BCCI President Anurag Thakur today made it clear that unlike his predecessor Shashank Manohar, he is not "interested" in any ICC post and his sole focus at present is to protect the rights of Indian cricket.
'I don't believe in biopics on cricketers': Did Gambhir take a dig at Dhoni?
Stoking a fresh controversy, out-of-favour India batsman Gautam Gambhir on Sunday asserted that films shouldn't be made on cricketers but on those people who have contributed for the welfare of the country and hence are more "deserving" of biopics.