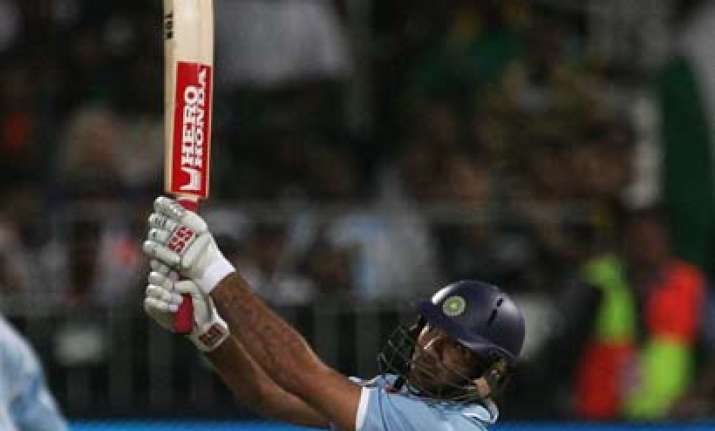 Indian batsman Yuvraj Singh has many achievements to his credit, but the World Cup hero will be best remembered every year on this day for his remarkable feat of hitting six sixes in an over during the India-England clash during the World T20. 
Nine years ago on September 19, 2007, Yuvi had hit 6 sixes in six balls off Stuart Broad at Kingsmead during the India-England match of the first ICC World Twenty20 championship in South Africa. 
By smashing fifty from 12 balls  in the 2007 World T20, he scripted history and made a record in all forms of international cricket. It was the first time in the history of  T20 World cup that any of the players had hit six sixes. 
And in the history of the game it was just the fourth time. Needless to say, the left-hander achieved the feat through his thrilling batting skills.
Yuvraj Singh was so incensed by Andrew Flintoff's chirping that he smashed six sixes off Broad in the 19th over of the first innings. 
Reliving that day, when India won the toss and was batting first and both Virender Sehwag and Gautam Gambhir  gave a brilliant start. 
After the openers fell within a space of seven runs, one-down Robin Uthappa too fell quickly as India came down to 155 for 3. 
It was then that Yuvi walked out to join Dhoni in the middle with a minimum of 20 balls left in the Indian innings. Both MS Dhoni and Yuvraj eyed a big finish and that is exactly what they did.
After the end of the 18th over, a somewhat ugly spat with Andrew Flintoff spurred Yuvraj on and Broad had to pay the price.
Yuvraj amazed cricketing fans worldwide with his six sixes in an over. India went on to win the World T20 that year with the brilliant knocks by Yuvraj Singh.
Ravi Shastri, one of the four players to hit six sixes in an over, was the commentator of this historic match. 
India finished with a total of 218/5 and Yuvraj Singh was honoured with a well-deserved 'Man of the Match' award.
That moment is still remembered fondly by Indian cricketing fans.
Watch that proud moment here: