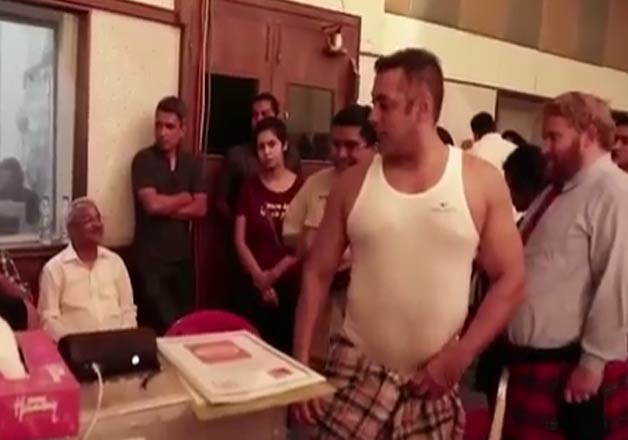 Frenemies superstar Salman Khan and Shah Rukh Khan have been ruling millions of hearts with their appealing and unique styles. However, this time the 'Sultan' actor is playing a copycat by wearing King Khan's iconic lungi for a advertisement shoot.
Salman Khan, who is quite often seen promoting his favourite undergarment brand 'Dixcy Scott on television sets, was recently spotted wearing a lungi, while shooting for the brand's advertisement. 
The Sultan actor, media reports say, has no issues to play "copycat" on screen and sing and dance like SRK's famous lungi sequence. 
The actor also admitted that he needs to lose a little more of his weight to regain his perfectly toned physique. 
Piyush Pandey, one of the India's biggest names in the advertising world has created this advertisement.
Piyush told media that for this Dixcy Scot ad, he was really curious to know if the Scots wore any undergarments under their kilts. So this very interest of him provoked the idea to make such a rib tickling advertisement.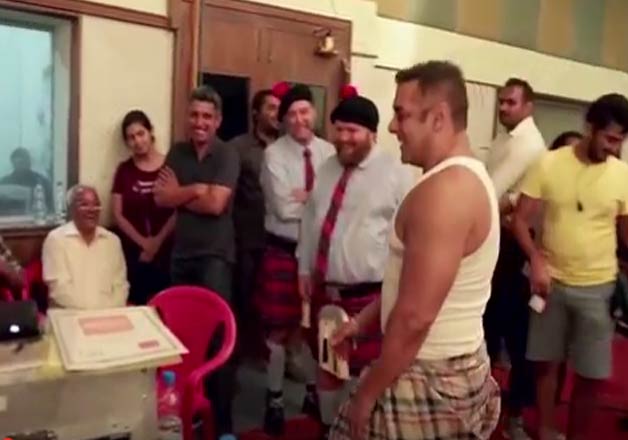 "And for which, the perfect choice was none other than Salman Khan.The only actor, who could make people laugh with his superb comic timing" he said.
All we know is that whatever Salman does becomes a rage. From sporting a moustache in Dabangg to hanging his sunglasses on the back of his shirt collar, the Bollywood star has always been an inspiration to many .
Check out the making of this advertisement here: