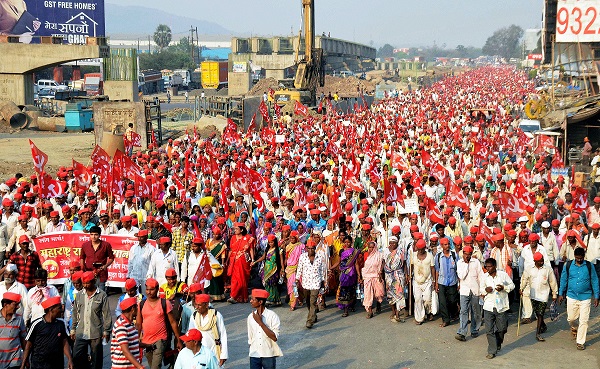 A highly charged protest with thousands of farmers reached Mumbai on Sunday demanding complete loan waiver and fair remuneration. Mumbai police is maintaining vigil as the farmers are expected to gherao the state assembly on Monday. 
The farmers are marching against the failure of the BJP-led government to address agrarian distress.
The march, led by All India Kisan Sabha (AIKS) - a peasants front of the Communist Party of India (Marxist), was launched from Nashik on Tuesday. 
#Maharashtra: All India Kisan Sabha's protest march reached Mumbai. Over 30,000 farmers held the march from Nashik to Mumbai demanding a complete loan waiver among other demands. pic.twitter.com/6UVj9WUxrZ

— ANI (@ANI) March 11, 2018
The farmers are expected to stage a protest outside the legislative assembly tomorrow and seek answers from the government for non- implementation of the demands that were promised by them. Considering the security scenario, Mumbai police issued a travel advisory to avoid traffic jams in the city. 
Meanwhile, Shiv Sena's Aditya Thackeray met the protesting farmers and interacted with them when they reached Mumbai.
#Mumbai: Shiv Sena's Aditya Thackeray met farmers of All India Kisan Sabha and interacted with them. Over 30,000 farmers marched from Nashik to Mumbai demanding a complete loan waiver among other demands. #Mahrashtra pic.twitter.com/Vl6MsqTRgG

— ANI (@ANI) March 11, 2018
A stream of people flowed in to join the 180-km long foot march that started with the participation of about 12,000 farmers. State General Secretary of AIKS, Ajit Nawale, said that the rise in number is a sign of intensity of discontent among farmers.
"Farmers in the state are reeling under the ripples of agrarian distress and they are under a huge financial burden. The government has not done anything to provide them with any relief. So they are left with no option but to express their anguish through the protest march," Nawale added.
Complete loan waiver and profit of 1.5 times input cost for all major agriculture commodities are the major demands of the AIKS. 
These farmers want an immediate implementation of M.S. Swaminathan committee's recommendations, which ensures fair remuneration.
The agitating farmers are also demanding compensation of Rs 40,000 per acre for destruction of crops due to hailstorm and pink-worm, allocation of forest land under cultivation to farmers and implementation of Forest Rights Act. 
While the organisers have said they would try to reach the assembly in peaceful manner, the government is likely to stop the protest march at Azad Maidan.
In June last year, similar protests had boiled over most parts of the state, forcing the Chief Minister Devendra Fadnavis-led government to announce a conditional Rs 34,000 crore loan waiver, which farmers said has not been implemented properly. 
Similar demands of loan waiver and 50 per cent profit over the input cost have been made by farmers across the country, putting the BJP-led central government in a fix. 
BJP is not just facing flak from the opposition but its estranged ally Shiv Sena has also extended its support to the protesting farmers.
WATCH VIDEO:
#WATCH: Over 30,000 farmers of All India Kisan Sabha march in protest demanding a complete loan waiver among other demands. The march started from Nashik and reached Mumbai today. #Maharashtra pic.twitter.com/dKinWWnmhf

— ANI (@ANI) March 11, 2018