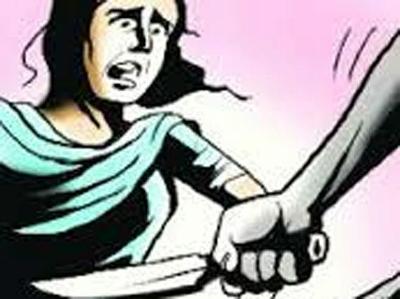 A 21-year-old woman was brutally killed, allegedly by her stalker, in North Delhi's Burari on Tuesday morning, after she was stabbed multiple times. 
The victim, identified as Karuna, was rushed to Sushruta Trauma Centre (ISBT), where she succumbed to her injuries. 
The incident was caught on a CCTV camera. The footage shows the attacker, identified as Surendar Singh, stabbing Karuna multiple times – all in broad daylight and in the presence of several onlookers. As the assailant continued to inflict wounds on the victim, people stood by and watched. Nobody came forward to help the victim, though the crowds later chased and nabbed the accused before handing him over to the police. 
"Karuna, aged 21 and a resident of Sant Nagar Burari, was stabbed  by Surendar Singh, 34, at 9 am. She was a teacher at Novel Reaches School. The assailant had been troubling her for an year or so. Family had lodged a complaint 4-5 months back and both the families had reached a compromise. The assailant is 34 and his divorce case is going on. There are 22 stab wounds on girls body and she was declared brought dead at Trauma Center," said Deputy Commissioner of Police (North) Madhur Verma.
Karuna, a teacher at Novel Reaches School, was walking to school when Surendar intercepted her and stabbed her to death.  
The victim's family has alleged that Surendar has been stalking and harassing her for the last one year.  
Karuna's family had registered a complaint with the police around five moths ago, but the two families later reached a compromise, said police. 
Condemning the terrifying incident, Union Minister Kiren Rijiju said, "This is a brutal case, will ask the Police commissioner for factual report in the case". 
Besides the horror and lack of adequate measures to ensure women's safety that the incident has portrayed, it once again highlights the absence of people's initiative to help someone in need. 
A video of another man went viral in August for the lack of empathy it displayed for an accident victim, who lay on the roadside even as passersby saw him but offered him nothing more than a glance. One rickshaw puller was seen in the video approaching the victim, but only to steal his mobile phone that had fallen aside when a tempo hit him in the wee hours on August 12.