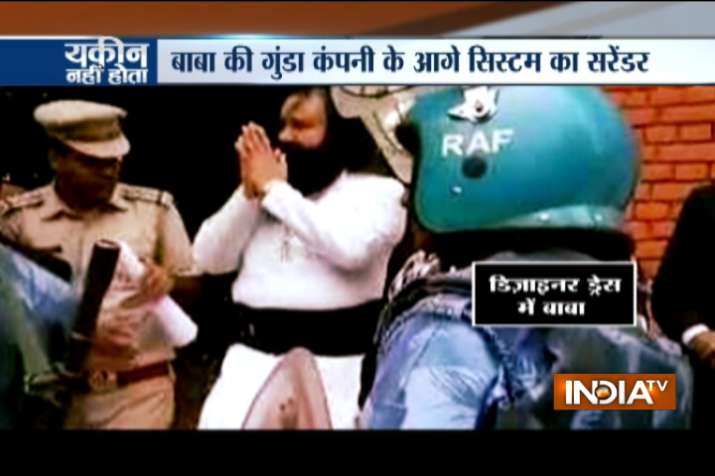 Despite being convicted in a rape case, Dera Sacha Sauda chief Gurmeet Ram Rahim Singh Insaan is reportedly being given "VIP treatment" in the Rohtak jail where he has been lodged. According to sources, Ram Rahim is staying in an AC-fitted room in the Rohtak jail. The Dera chief is being provided with mineral water bottles and he has been given permission to wear his own clothes. He is also being accompanied by a private assistant.
Ram Rahim is being given "VIP treatment" right from the time he was convicted by Special CBI Judge Jagdeep Singh. He was taken to Rohtak from Panchkula, along with his adopted daughter Manpreet, in an Army helicopter. 
After reaching Rohtak, he was first lodged in an AC-fitted room at Police Training Centre (PTC) guesthouse. He sipped milk in the guesthouse and was shifted to the jail at 9.40pm. He was given "VIP treatment" throughout his journey from the CBI court to Rohtak and it is reportedly continuing even inside the jail.
Gurmeet Ram Rahim Singh arrived in Panchkula court in  designer clothes and he was wearing the same clothes when he arrived in Rohtak jail. When he was sitting in the police jeep after coming out of the CBI court in Panchkula, his personal bags were also placed in the vehicle. Obviously, these bags must be full of luxurious items which will not let him feel that he was a prisoner who has been put behind bars after conviction by a court of law for committing a heinous crime.   
However, Haryana Police has denied reports of Dera Sacha Sauda chief being provided "VIP Treatment" in Rohtak jail.
"Some channels and papers are reporting on special treatment to Ram Rahim. I clarify he is in Sunaria Jail, not in a guesthouse. Ram Rahim Singh is being treated as normal prisoner. No attendant provided, no AC in the cell he is lodged in," KP Singh, DG Prisons(Haryana) said.