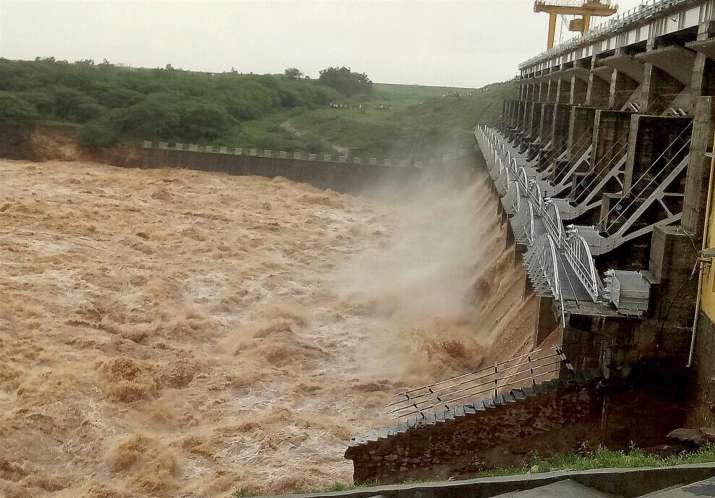 A massive tragedy unfolded in the Khariya village of Banaskantha district as flood waters started receding slowly on Wednesday morning. Villagers watched in shock as the rescue team pulled out one by one bodies of 14 members of a family who were washed away in a flash flood on Tuesday night. 
Among them were bodies of five men, five women and four children, aged between two-and-a-half years and 13. Sources said that more bodies of people swept away in the last three days are likely to surface as waters recede.
Deaths reported on Wednesday stood at 29 taking the death toll in the current monsoon state to 123. 
Prior to these deaths, reported from Kankrej and Dhanera talukas of Banaskantha today, 94 people had lost their lives in various rain-related reasons in the state till yesterday, said Principal Secretary, Revenue, Pankaj Kumar. The toll now stood at 123, said an official. 
"The bodies of 17 people, including 14 of a family, were found at Kharia and a nearby village of the Kankrej taluka today. At Dhanera, the authorities found seven bodies in the early hours from Sihori village, while two more bodies were found later," said Principal Secretary, Revenue, Pankaj Kumar. 
Besides, two persons lost their lives in Palanpur town of Banaskantha due to a wall collapse, while one more person died in a similar incident at a nearby village, he added. 
The police found 25 bodies, while another body was found by the locals later. 
"Seventeen bodies were found from Kharia village in the Kankrej tehsil and seven bodies were fished out from the neighbouring Sihori village. One more body was found from the interiors," said Assistant Superintendent of Police Akshayrajsinh Makwana.
"More bodies are likely to be found as the water recedes in over a dozen villages located along the banks of the Banas river," said A D Parmar, Inspector, Thara Police Station, under which Kharia falls. 
Kharia and Sihori, both situated along the banks of theBanas, were severely inundated after water from the Dantiwada dam on the river was released the day before yesterday. These two are among the worst-hit villages in the district. 
Around 1.5 lakh cusecs of water was released from the dam after heavy rains in neighbouring Rajasthan, which resulted in inundation of several villages situated along the banks of the river in the district. 
"Kharia is one of around 14 villages in the taluka which are badly affected due to the flood. Due to a sudden surge of water in the Banas river, those living in these villages did not get a chance to relocate to a safe place," said Parmar. 
Banaskantha and Patan are among the worst-hit districts in the state due to heavy rains and flooding of the Banas and Sipu rivers. 
Revenue Minister Bhupendrasinh Chudasama said the state had already received 555.02 mm of rain, which is around 68.52 per cent of the expected annual rainfall of Gujarat. 
Over the last 24 hours, 12 talukas, mostly in north Gujarat, received more than 100 mm of rainfall each, while 21 talukas across the state received between 51 mm and 100 mm of rains each, said a release from the State Emergency Operation Centre (SEOC). 
The talukas which received such a high rainfall included Himmatnagar of Sabarkantha (219 mm), Amirgadh of Banaskantha (150 mm), Dhanera of Banaskantha (139 mm), Deesa of Banaskantha (119 mm), Modasa of Aravalli (113 mm), Prantij of Sabarkantha (111 mm) and Satlasana of Mehsana (110 mm). 
"In the last two days, as many as 1,930 people have been rescued by the National Disaster Response Force (NDRF), Air Force, Army, BSF and our own administration in north Gujarat.
Over the last one week, as many as 53,004 people were also shifted to safer locations," said Chudasama. He added that over three lakh food packets had been distributed in Banaskantha, while 18,000 were distributed in Patan. 
"Rescue operations are going on, despite a rough weather. We have deployed 18 teams of NDRF, 11 companies of SDRF and three columns of the Army. We are also taking the help of the Air Force, which has already deployed 10 helicopters for evacuation," said Chudasama. 
Due to the incessant rain and resultant flood, five national highways, 153 state highways and 674 internal roads across the state were still closed, he added. 
Stepping up the efforts to airlift people from the inundated villages and distribute food packets among them, the Air Force today said it had pressed 16 helicopters into service in Banaskantha and Patan districts. 
Similarly, the Army also stepped up its rescue-and-relief operations by sending two additional columns in the affected region today, taking the total strength to five columns, said a statement by the Defence PRO. 
The Gujarat government today announced a compensation of Rs 4 lakh to the kin of the deceased, in addition to the Rs 2 lakh compensation announced by the Centre yesterday.