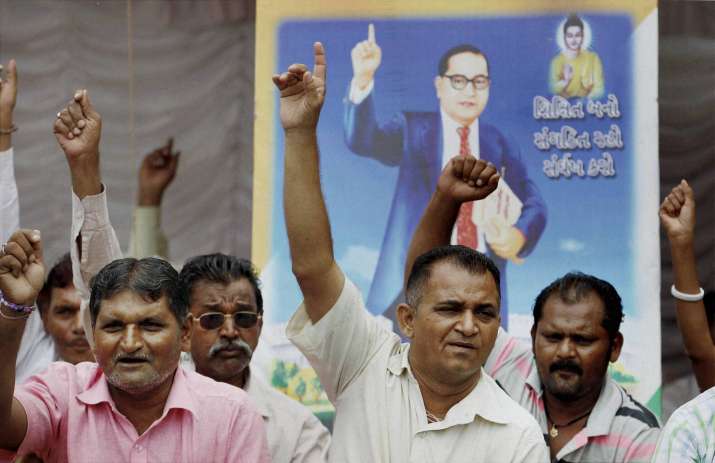 In a sign of Dalit strength, the community in Gujarat will gather in Ahmedabad in the 'Dalit Mahasammelan' to call for an end to social discrimination, oppression and political apathy.
The gathering is being organised as a mark of protest against the July 11 thrashing of four Dalits youths in Una taluka of Gir-Somnath district for skinning a dead cow.
Members of the community as well as Dalit rights activist across the state, and also from outside the state, are expected to attend the event organised by Una Dalit Atyachar Ladat Samiti (UDALS) at Acher Depot in Sabarmati.
Family of Rohit Vemula, University of Hyderabad Dalit scholar who committed suicide in January, will also address the gathering.
Family members of victims from Thangadh in Surendranagar district, who were killed in police firing during a protest gathering in 2012 have also been invited, the organisers said, adding leaders from both BJP and Congress have been asked to stay away from the event.
The venue was changed from collector office to Acher citing "security hazard". The cops have also restricted the gathering to only 5,000.
The suspense over the venue of the meeting continued till Saturday afternoon, with police trying to convince dalit leaders, from Friday onwards, about implications of holding a rally at RTO.
As they announced the plan, community leaders alleged police have indicated permission will not be granted for the event, and accused the BJP Government of being "anti-Dalit".
However, police claimed they have only suggested the groups to shift the venue to a bigger place as the gathering at Collectorate would block the vehicular traffic on the adjacent Ashram Road and create chaos.
Apprehensive about violence, Gujarat CM Anandiben Patel appealed for peace. "I appeal for peace. People with with vested political interests are trying to divide communities and disrupt peace in state," she said.
The administration has planned heavy deployment of police force to prevent any untoward incident.